I'm thinking they will make millions off of selling this service to game companies.
With the release of the Windows 10 Fall Creators Update earlier this week, Microsoft quietly rolled out a gaming anti-cheat engine, similar to Valve's VAC system.
Called TruePlay, the new anti-cheat system is a collection of APIs that game developers can employ in their games to detect cheaters.
TruePlay works by allowing developers to create games that run in a protected process that will automatically mitigate certain types of attacks often used by game cheats such as aimbots and wallhacks.
Besides a hardened process container, TruePlay also provides an external Windows service that monitors gaming sessions for behaviors and manipulations that are also common in cheating scenarios, even if they're successful or not.
TruePlay will alert game developers of cheating players
If cheating is detected, TruePlay can show alerts to the player. It can also collect anonymized user data and send it to the game developer, who can decide on more punitive actions.
TruePlay is only available for games developed with Universal Windows Platform (UWP) technology.
Because of the privacy implications that come with monitoring users' games, TruePlay is not turned on by default, so users will need to visit their Settings section and click on it to enable the anti-cheat feature.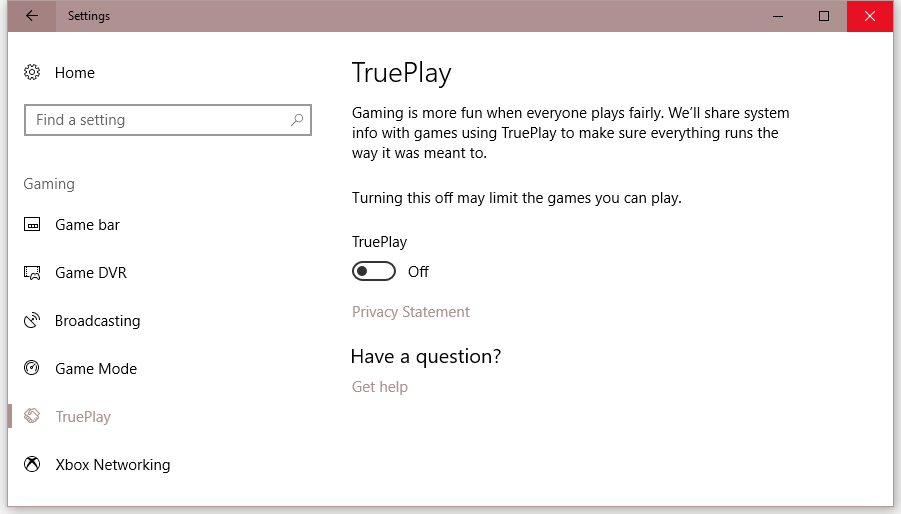 If game developers adopt it, soon, players won't be able to join multiplayer games without the feature being turned on.
TruePlay expected to become very popular
Experts expect TruePlay to become very popular, as game developers are having a hard time catching cheaters as it is, and they'll embrace an extra layer of protection, especially one that can work so deep inside Windows' guts.
Since it's an API, integration with existing games should also be easier than if developers coded custom anti-cheat systems from scratch.
TruePlay was previously known internally at Microsoft as GameMonitor, and the company launched it as a test feature with a Windows Insiders build back in July.
https://www.bleepingcomputer.com/news/gaming/microsoft-adds-game-anti-cheat-engine-to-windows-10/