Star Wars: Jedi Challenges [augmented reality Star Wars Game]
This looks interesting and only costs around $200. It's the first augmented system I'm actually considering buying.
Lenovo Star Wars Jedi Challenges hands-on.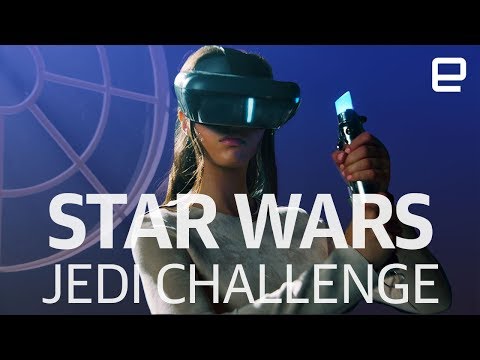 I'm surprised they left out the one where you have to counter the drone attacks like Luke did when training with Obi Wan.
Gear
Lightsaber Controller
Experience what it feels like to wield a lightsaber for the first time — to face off against enemies right in your own living room. Feel your opponents' attacks with force feedback.
Lenovo Mirage AR Headset
The Lenovo Mirage AR headset is ergonomically designed for maximum game immersion.
Tracking Beacon
The beacon ensures accurate tracking of your location, while expanding and filling in the environment around you with an immersive augmented reality universe.
https://www.bestbuy.com/site/clp/star-wars-jedi-challenges/pcmcat1499789832349.c?id=pcmcat1499789832349&ref=P10T12R104&loc=BODY&CampaignID=861199&eut=730069850
"We all do the best we can based on life experience, point of view, and our ability to believe in ourselves." - Naropa "We don't see things as they are, we see them as we are." SR Covey