Searching on google trends I found that virtually everything I could think of relating to what people have been looking for with MMORPG (the genre in general and many top popular games of the past) has been on the declines since 2006-2009.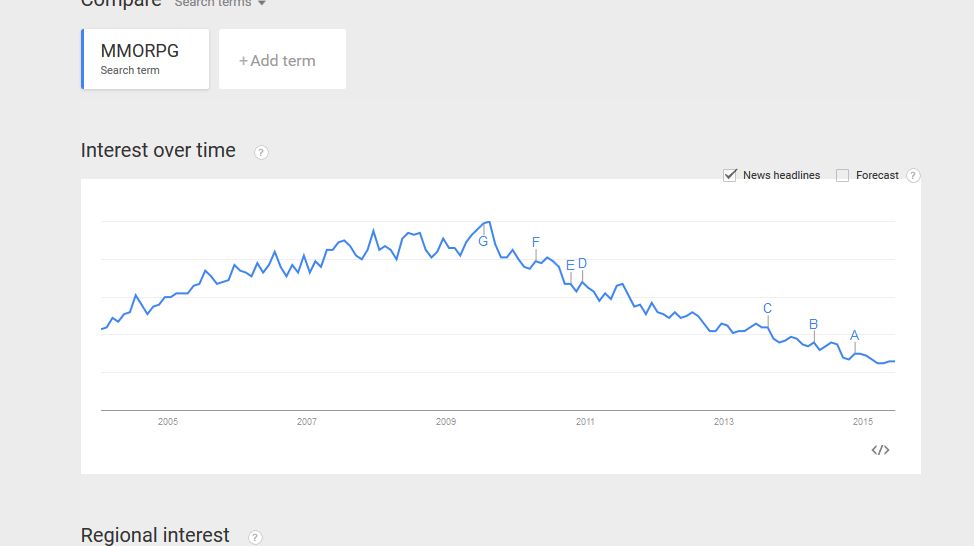 Now, what this shows strictly is that the number of people searching through google or google subsidiaries (like youtube) and affiliates for topics related to MMORPG has been dropping in recent years by a lot. As has news and articles on the subject (both are searchable through this statistic look up service google provides).
So, I thought...If players are not searching for for MMORPG to play. What are they looking for? Well luckily google trends also has a statistic comparison feature. So, I started cross referencing every genre I could think of that is played online with MMORPG. Things like RTS are relatively stable through out the years and far under searched compared to MMORPG. But, eventually I hit on a statistic comparison I thought was interesting.
Just as MMORPG are reaching the bottom of the interest curve. MOBA have been on the rise. Searching Big MMORPG (as stated above) showed a general fall off in interest from searches in recent years...So, would searching for MOBA and MOBA-like games show a general up trend in interest?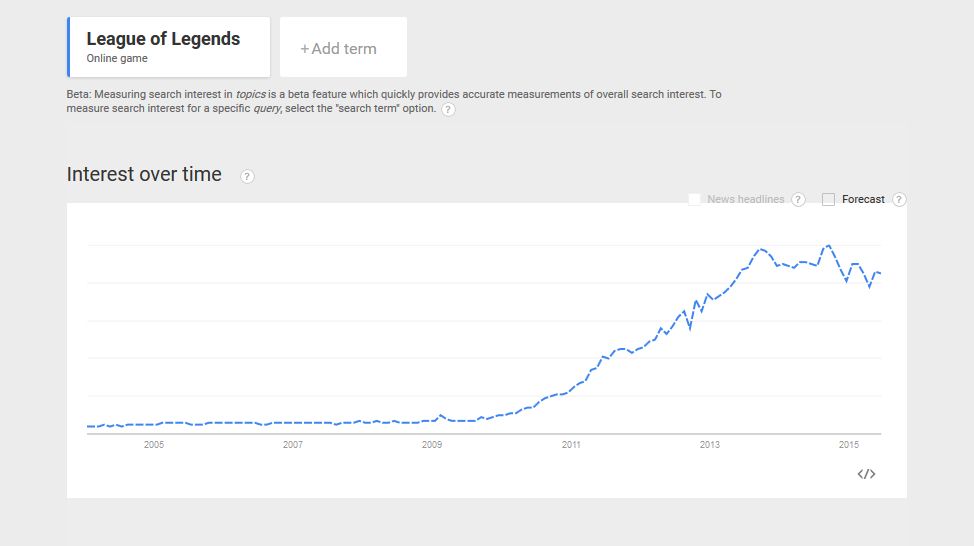 Turns out...yeah. Exactly that seems to be happening. It would appear (just according to google) that interest within the larger MMO realm is steering away from MMORPG and toward MOBA. Now I just used big name examples here as I ran a lot of searches and I don't want to do all the work of saving and uploading those, lol. But it seems clear that since about 2009 MMORPG have been down trending in general interest and almost exactly as that is happening MOBA are begining to uptrend.
But, it is just google (it's really hard to down play how all encompassing google is with a strait face. But, I am making an honest effort). So, supporting evidence? Well a while back super data research looked into the top grossing MMO's.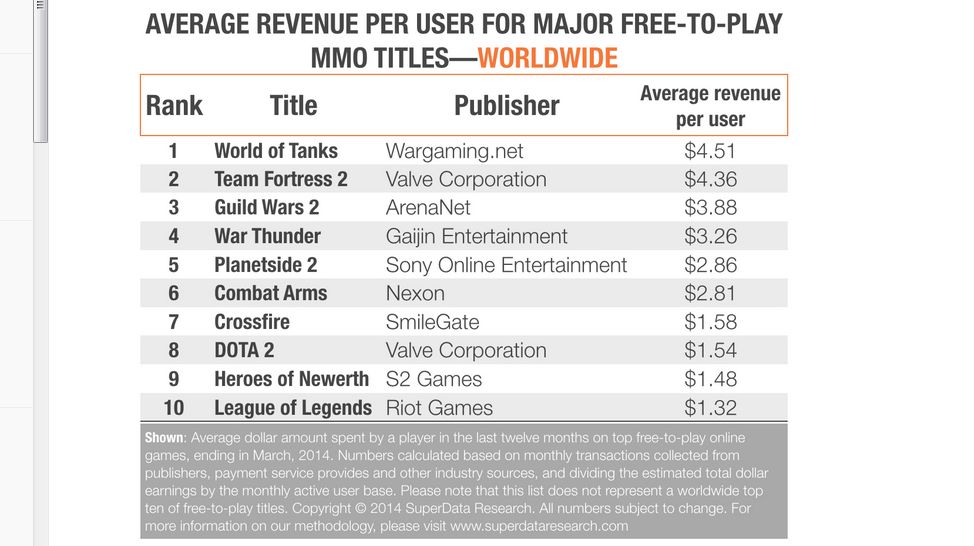 And, MOBA (as well as, MOBA-like) games dominate their list.
I admit there is a lot of possibility here. Data and the interpretation of data are pretty far removed things. My interpretation of this data could be way off the mark. And, there could be plenty more data to be looked at that I didn't even think about which may absolutely crush this idea. So, what do you all think about this?