So I just moved, and my "man cave" is nearly setup, but I can either get a new desk setup, or a new compact keyboard and use the little rolling computer desk. I've chosen a new keyboard as my best bet. However, to get the mouse pad and mouse to fit on the slide out tray, I need a compact keyboard. I have a budget of about $100. This is an arbitrary amount...I just don't want to spend more than $100 for a keyboard. I am also avoiding Razer keyboards. I really like their mice, but their keyboards just seem to be really wonky.
I've found the following three keyboards on New Egg, and they each have decent reviews, not too many "DOA" reviews, etc.
CoolerMaster Quickfire TK (Red Switches)
CoolerMaster Quickfire TK (Blue Switches)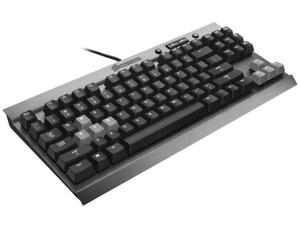 Does anyone have a preference among these three keyboards? My thoughts at this point are that I like the ability to have a complete numpad when I want it on the CoolerMaster keyboards, and I like the backlighting, but I suspect the Corsair is a better keyboard for the primary purpose of gaming.
Does anyone have better suggestions for a compact keyboard near my price range of $100?
I can not remember winning or losing a single debate on the internet.