As the topic says, EVE can use more roleplayers so we've begun reaching out various roleplaying sites around the internet to try and attract more of us.
What is EVE?
EVE is a Massively Multiplayer Online Game (MMORPG) that takes place approximately 20.000 years after our times in a galaxy on the far end of the universe. When you join EVE you assume the role of a freshly graduated "capsuleer", a relatively small group of elite spaceship pilots capable of controlling powerful spaceships on their own from within their capsules. Capsuleers are often referred to as "immortals" due to the fact that the highly advanced capsules, which connect them to their ships, are capable of instantly downloading their consciousness to a clone of themselves in the case of physical destruction.
A few things make EVE special amongst other MMORPGs
EVE is a single "shard" virtual world. What that means is that everyone who joins EVE becomes a part of the same world and the same community. The industry standard for MMORPGs is to run the game on multiple smaller servers – so-called shards – so that each player only has the opportunity of interaction with a few thousand other players even if the number of subscribers can be in the millions. In EVE you have the opportunity to affect more than 300,000 other players in one way or another as all our players are a part of the same persistent universe, hosted on the world's most powerful gaming server.

In EVE you are free to choose your own destiny. You start out as a character from one of four races that inhabit the EVE universe but apart from slightly different starting skills you are free to take your character in any direction you want. You are not restricted by predefined character classes or professions. You can trade to make a living, conduct mining operations, market your fighting skills as a mercenary, camp the spacelanes for profit as a pirate, conduct espionage and infiltration, focus on research and manufacturing, or perform increasingly profitable missions for NPC (non-player character) agents. What you choose to do day-by-day is up to you. You can play alone, form a corporation (the equivalent of a clan or guild) with a close group of friends, or join any of the many player-run corporations and alliances that are already established. The EVE Universe and its 7,500+ unique solar systems are yours to explore and conquer.

In EVE you don't level up using the typical experience point model seen in most MMOs. Rather, you purchase skills from NPC vendors which then train in real time until finished. The skills will even train while you are offline. Skills give you a myriad of different abilities. Some allow you to fly specific types of ships or use a particular weapon while others focus more on general things. Each skill has five levels, increasing the bonus to whatever field of your gameplay they affect at each level. Each level however takes increasingly longer to train so that players are always faced with the choice of specializing in one field, or spending the skill-training time equally on many different fields.
Background
Set more than 21,000 years in the future, the background story of Eve Online explains that humanity, having used up most of Earth's resources through centuries of explosive population growth, began colonizing the rest of the Milky Way.
In turn, this expansion also led to competition and fighting over available resources as it did on Earth, but everything changed with the discovery of a natural wormhole leading to an unexplored galaxy named "New Eden". Dozens of colonies were founded, and a structure was built to stabilize the wormhole that bridged the intergalactic colonies with the rest of human civilization, a giant gateway bearing the name "EVE".
However, when the natural wormhole unexpectedly collapsed, it destroyed the gate. Cut off from the rest of humanity and supplies from Earth, the colonies of New Eden were left starved and disconnected from one another; some died out entirely.
Over the millennia the descendants of the colonists managed to survive and rebuild their own societies, but the memories and knowledge of humanity's origins as well as their own from Earth and the Milky Way became lost.
Five major distinct societies rose to prominence from the colonies, each growing into interstellar spaceflight-capable civilizations. The states based around these colonies make up the five major factions in Eve Online: the Amarr Empire, the Caldari State, the Gallente Federation, the Minmatar Republic and the Jove Directorate.
This background story in pretty trailer format: https://www.youtube.com/watch?v=FZPCiqBLPM8
Races
The Amarr, a militantly theocratic empire, was the first of the playable races to rediscover faster-than-light travel. Armed with this new technology and the strength of their faith in their god, the Amarr expanded their empire by conquering and enslaving several races, including the Minmatar race, who had only just begun colonizing other planets. Generations later, after the intense culture shock of encountering the Gallente Federation, and in the wake of a disastrous attempted invasion of Jovian space, many Minmatar took the opportunity to rebel and successfully overthrew their enslavers, forming their own government. However, much of their population remain enslaved by the Amarr, and some, having adopted the Amarrian religion and sided with their masters during the revolution, were released from bondage and incorporated into the Empire as commoners in the Ammatar Mandate. The free Minmatar Republic, taking as inspiration the ideals and practices of the Gallente Federation, is presently a strong military and economic power actively seeking the emancipation of their brethren and all other slaves.
The Gallente and the Caldari homeworlds are situated in the same star system. The Gallente homeworld was originally settled by descendants of the French colonists of Tau Ceti; Caldari Prime on the other hand was purchased by a multinational megacorporation that began to terraform it. The terraforming of Caldari Prime was incomplete at the time of the wormhole's collapse, however, and the planet remained environmentally inhospitable for millennia. The Gallente restored themselves to a high-functioning technological society some hundred years before the Caldari, building the first lastingly democratic republic of the new era in the form of the Gallente Federation. Originally the Caldari were members of the Federation, though cultural animosity between the two peoples spiralled into a war during which the Caldari seceded from the Federation to found their own Caldari State. The war lasted 93 years, with neither nation able to overwhelm the other. The planet Caldari Prime was initially retained by the Gallente Federation during the war, and did not become part of the new Caldari State. Much more recently, however, a Caldari offensive managed to recapture their lost homeworld, a fact which is viewed with abhorrence by the Gallente, who see the presence of a significant Caldari fleet about the planet as a mass hostage taking.
Both the Gallente Federation and Caldari State are economical and trade oriented nations. However, the Gallente favour liberal economic policies, encourage individual entrepreneurship and social democracy, and maintain a progressive approach to social welfare whereas the Caldari State is organised as a form of statist corporatocracy, where the State itself is owned by and operated on behalf of a few trust-like megaconglomerates. Due to their official policies regarding multiculturalism and encouragement for diversity, the Gallente Federation attracts many immigrants; a third of all ethnic Minmatars reside as citizens there, and thus while the Caldari State originally existed at a relative population deficit, this was rectified instead by a State-wide programme of artificial reproduction, producing a generation of so-called 'Tube Children' raised by the State to enlarge the available labour pools of the controlling megacorporations.
The Jovians (currently a non-playable race) were colonists, too. Unlike the other races of Eve Online, they maintained a relatively high-functioning technological society after the collapse of the wormhole and did not need to spend millennia recapitulating ancient societal developments, and while the other four major races were still grounded, Jovian history saw two major periods of empire. They expanded outward and eventually turned to genetic engineering in order to mold themselves into a species more suited for deep-space life and long-range interstellar exploration. Genetic experimentation, however, eventually led to the deadly "Jovian Disease", an inheritable psychological disorder which, despite their best efforts to reverse it, crippled their civilization. They now inhabit a region of space supposedly inaccessible to outsiders.
In addition to different backgrounds and histories, each of the races have characteristic philosophies of starship design. Minmatar ships tend to be quite fast but fragile, and rely on their high speed maneuverability to evade the tracking systems of heavier weapons, while themselves using projectile weapons such as artillery or autocannons, more sophisticated kin to today's munitions technology. Amarr ships are ponderous, densely armored, and pack batteries of powerful laser-based energy weaponry. Gallente ships are sleek, well designed and armored, and specialise in deploying fleets of robotic drones while mounting hybrid weapons that operate using superconducting magnets to accelerate mass toward targets at extreme speeds. Finally, Caldari ships are typically poorly armored and not particularly fast but utilise powerful energy shields, and make extensive use of torpedo/missile launchers and hybrid railguns, favouring engagement at extreme ranges.
Want to know more?
The Eve Chronicles: (A large collection of stories explaining many different aspects of the EVE Universe)
https://community.eveonline.com/backstory/chronicles/
Eve Short-stories: (Larger stories covering either real ingame or fictional events)
https://community.eveonline.com/backstory/short-stories/
Scientific Articles: (Articles that explain the various types of technologies in EVE (cloning, space travel, etc)
https://community.eveonline.com/backstory/scientific-articles/
CCP Games (The developers) introduction to eve:
http://web.ccpgamescdn.com/communityassets/pdf/EVE-Online-New-Pilot-FAQ.pdf
Eve University (A player run school in eve) starting guide:
http://wiki.eveuniversity.org/Getting_Started_in_EVE_Online
Eve's most recent trailer: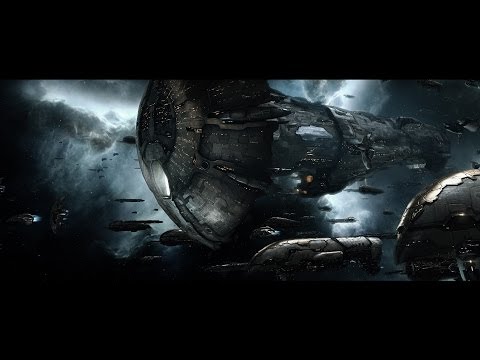 Eve Backstage (Eve's main RP community):
http://backstage.eve-inspiracy.com/
Create a free 21 day trial account:
No credit card or any of that nonsense required, simply create account, download and start playing.
https://secure.eveonline.com/trial/?invc=735e9805-6097-45a6-ab1d-fee5ecbd757b&action=buddy
Hope to see you guys in space soon