Has anyone noticed the art direction on the lower left of every page?
I for one never noticed before, and when I decided to re-read the lore page again something suddenly struck me! The art is pretty good! It's original and different and has personality! This was the art that made me revisit each and every page on the website again, notice how it has personality, the cold expressions on her face, the colors shadows and proportions.. it all fits too well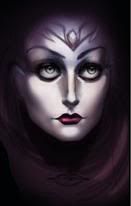 Here is another one, it has a surreal feel to it and something just draws me to it.. The orange aura just adds to the feeling you get from it
A third one with a unique art direction, notice the sketches on top of the painting. Leaving them there gives a unique and an original feel.
I'd say well done! Continue working with this artist. What do you think? have you enjoyed it as much as I did?