I'm amazed on how the full screen rs will look i can't wait

go to www.runescape.com for the development diary






To play RuneScape's new detail level you will need:




* 1.5 GHz processor or higher

* 256MB of RAM or more

* 64MB 3D Graphics card, such as Nvidia(R) GeForce(TM) 3 or above








fullscreen picture




The (optional) fullscreen mode will scale the game up to your monitor's native (32-bit colour) resolution and the field of view adjusts for widescreen resolutions – it also supports 2x and 4x anti-aliasing to help smooth off edges. Playing the game in fullscreen mode allows you to more fully immerse yourself within the game, as Mod Farley says, "It feels more like you're in the world now, instead of looking at it through a window."








now water wont look just like a huge blue blanket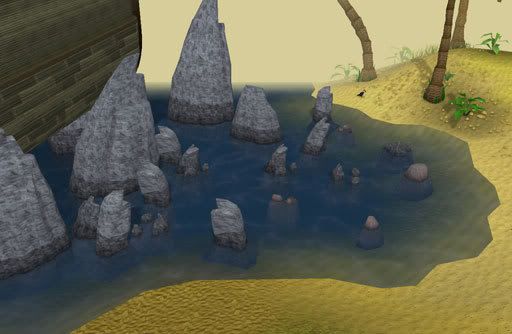 Deciding to create a whole new level is one thing, but creating all of the objects on that level is something else entirely. We had to find a way to model the bottom parts of everything in water – shorelines, rocks, reeds, boats – as only the top portions of those objects exist in the other detail modes. Mod Nick says, "The Tools team built a system into our map editing software to automatically generate any ground underwater, which Graphics could then then tweak if they needed to."








------------

As we said in Behind the Scenes – June, we're not currently planning any more game updates to RuneScape this month, but that doesn't mean we're taking time off ourselves or relaxing just yet. The whole company is working hard on the new detail mode's finishing touches, July's other updates and content beyond that. As the saying goes, 'There's no rest for the wicked'. Andrew concludes with, "Altogether, I am massively pleased with this update, but there's always more we can do. RuneScape needs to constantly evolve to remain a state-of-the-art online game, so we're already planning future graphical improvements..."
me i cant wait for this update
More quik pictures.