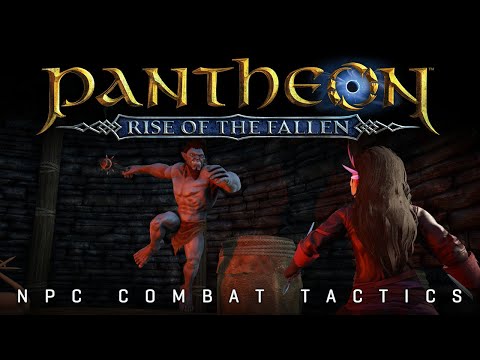 They get right into the topic.
Team consists of a Shaman, Dire Lord and Wizard. We have not seen much Wizard game play yet. The zone they are in is a 24 man raid zone. So they used some dev tools to give them God mode. This will be all about show casing the NPC AI not on combat. Joppa says that this video show NPCs making meaningful decisions in combat, not just mechanics and cool abilities. For instance, a healer NPC wont just heal a friend when they lose HP but may dispel a DoT or remove a CC before healing them. In the devs words, "Making NPCs seem alive"
5:25 shows a target graph where NPCs have options of just not picking the player with the biggest threat level, but other smarter options.
6:37 we get to see this graph in actions.
9:26 Next graph for NPC options kit
10:58 Next graph for NPC options kit, NPC dispelling mez on allies.
11:39 See dispelling kit in action in game.
16:13 Next graph for NPC option kit, new NPC battle, this sill kit is 2 npc that can combo off each others skills and how they are always looking for each others skills, so they can combo.
18:16 Next graph for NPC option kit, this kit is to have NPC looking for foes who have mana.
19:04 Next graph for NPC option kit, this kit if to look for someone with mana that is not CCed. In the video of combat to follow, two of these kits case some interesting NPC bouncing between targets.
20:13 In game footage showing these above kits in action
24:57 Next graph for NPC option kit, fir last fight, new NPC added to the fry (mini boss), this time its only cast this ability when X number or players are in range.
26:42 (most complex) Next NPC option kit, this is for an ability thats triggered from another kit
28:28 Next, 2 graphs NPC options kits, they did not discuss this one
29:41 In game combat with above kits in action. Most dynamic NPC option in play here.

34:36 Back to talking heads. Gets into road map to alpha. Also gets into how Pantheon will be a very strategic game. We will see this more in the coming months as they show us these tool in action.
38:15 Patch notes, Joppa said that going forward they will be adding the patch notes to their web site.
46:00
BOMB DROP!
Monk class will be coming soon. Maybe next stream. Focus is the Monk, Summoner and Ranger right now.
47:10 Q&A, only going to post the most interesting questions, only answering questions about NPC options kits
51:50 All AI kits are being added manually, nothing does procedurally.
52:02 How is the pet system coming? Not started working on it yet but coming soon (Joppa's words). (So Summoner will take the longest. My conjecture)
55:40 Will NPC's AI have them working together combo-ing of each other skills? Joppa says: Plan on it! (talks about this emphatically for a few min)
57:49 Wraps up stream, nothing important. Joppa talks about being a music composer and how the contrasts to making a game. Talks also about how happy and how much fun they are having watching the AI unfold.