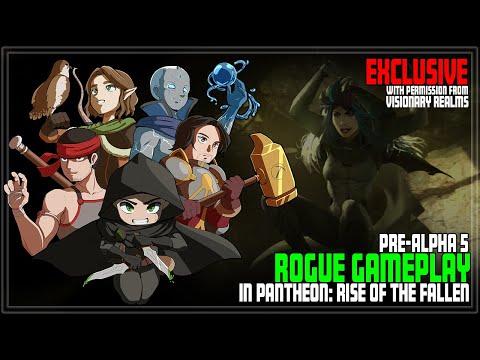 Not sure how I missed this video from Oct 30th, doing a timeline now. Enjoy.
0:00 - With intro to the video, we see in game current footage. This is all in greybox, get over it, its not even in Alpha yet.
1:32 - Introduction over - they had freedom to use as many mastery points as they wanted, without earning them. To test the system
2:24 - They start on the skills in game now for the Rogue
8:00 - Skills and Mastery for them description over.
8:15 - First look EVER of what could be a city in Pantheon - This happens as the Rogue is in full stealth. Was also talking about the fun of the Rogues tool kits and how they felt in combat. Also helps setup what you will see in the teamed part of the video.
10:32 - Video is now a recording of a groups experience playing/teaming with a Rogue. Team is made up of a Wizard, Shaman x 2, Dire Lord x 2 and of corse a rogue. At the start, they are killing field trash.
15:20 - They find a cave of Trolls. IMO they should be a playable race =-)
17:54 - After team wipe, Rogue scouts the cave and find a boss.