A little update for people who are following or interested in Ashes of Creation
Alpha 1 Testing
Alpha 1 Testing is going to happen in 2020. The testing is now phases, with a QA/Stress test period preceding each phase. This has come with some grumblings from people about having purchased a Kickstarter package that came with "earliest possible access" only to find out that the testing access has been put into phases.
I see both sides of this argument. On one hand, people did pledge with the "earliest possible" in mind, however, I also understand that Intrepid was a rookie company when they laid out their original testing (and release) schedule. The last thing they want is 10,000 Alpha Testers slamming into a server and having issues and not being able to figure out what the cause of the issues are. I mean, look at Star Citizen and their free fly event. People suffering six-hour queues unable to get in. This is a game that's been in development for six years with hundreds of millions of dollars in development and they are having issues.
So while there can be some grumblings about the testing, I applaud Intrepid for being open and honest about it. Since their PI people are under NDA, they could have just let them test without ever telling people what the plan was.
Right now the schedule is as follows:
Phoenix Initiative Testers - Staring May 2020
Braver of Worlds (Kickstarter or Summer Backer) Testers- Summer 2020
Intrepid Pack (Webpage packs) Testers - Fall 2020.
The PI test will be under NDA. The BOW test will more than likely start under NDA, and then if the major issues are worked out, it may come off of NDA, or the NDA may remain in place until the fall when Alpha 1 is out of QA/Stress testing and officially starts.
Game Development
Intrepid Studios continue to make progress despite the California lockdown. In March they showed a little over an hour of live developer gameplay. In April they showed off some pre-recorded footage of the Alpha 1 Environment as well. Through the month of May the owner has been leaking little clips of footage.
The overall consensus from the community is that the graphics are much improved, but the animations still need work. Intrepid has acknowledged this and affirmed that this is still technically Pre-Alpha Footage, and that many more art and animation passes will occur before launch.
For people who see the UI and wonder if it's the final one, the answer is no. Ryan Pearson, formerly of Blizzard, has joined the Intrepid Team as the Senior UI Artist. He showcased some just ideas of new UI work in January, and Intrepid has continuously stated that the UI is a placeholder.
For a quick rundown on the graphics then and now, I put together a video that does a lot of side by side comparison.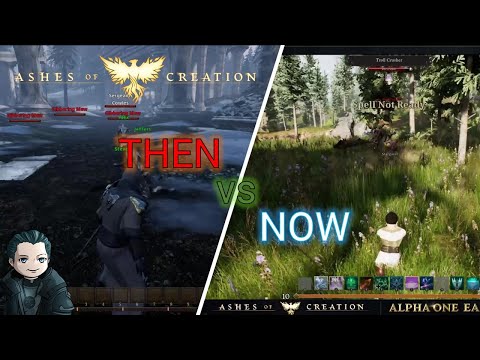 Other
I am happy to answer any questions about Ashes of Creation, collect any feedback and pass it along to Intrepid. If you are looking for more information I invite you to https://www.ashes101.com/ which is my website covering the game
Or you can swing by the community wiki at https://ashesofcreation.wiki/