Back several years ago my Guild joined the Early Access for a game called Tree of Life. The game was a blast in those early days. Extremely dark nights that required your whole town to huddle around Campfires and pass the time by telling tales of Adventure and intrigue. In game Chat was only local area chat so without world chat you had no idea what was going on in other parts of the world unless a traveling trader came around and told you tales of their adventures. Traveling took multiple in game days to get around so you would have to learn which towns were friendly and would offer you rest during the dark nights. Bandits (PvP guilds) roamed the land looking to stir up trouble which required an entire region to come together and defend the area from these bandits. Alliances were born and the Player created politics of the world soon took hold and were constantly changing and evolving.
It didn't take long though for the Developers to start making changes that ruined the fun the game had to offer. Ever since then I have been thinking it would be fun to create my own version and try to recapture some of that lost fun. So I introduce Code name Project: Survival. A Mirror based Prototype of my take on Tree of Life. Servers will be Player Hosted with a couple Official Servers ran by me. Each Server will be able to be home to up to 1,000 concurrently connected Players or 10,000 Active Users.
The entire MMO Framework is custom coded for this game with a walk through of how it is being created going up on my youtube channel over the coming weeks. It's using the Mirror Networking API for the networking. Mirror has successfully been tested with 500 concurrently connected users all playing with in view of each other. A test of 1,000 Concurrently connected Users will be taking place soon.
I am developing in phases:
Phase 1: This initial phase includes Skills, Crafting, Inventory, and Resource Gathering
Content will include Tier 1 Settlement items - crude wooden structures and walls, basic Survival Camp gear
Release date: Play testing begins middle to end of June 2019 - Release: July 1st 2019 (based on Play testing)
Phase 2: Abilities, Equipment and Combat as well as enhancements to Phase 1 Systems
Content will include Tier 2 settlement items - more sturdy wooden structures and walls - Tier 2 resource Nodes
Release date: TBD
Phase 3: Guilds/Groups, Mounts, Economy - Enhancements to Phase 1 and 2 Systems
Content will include Tier 3 settlement items - basic stone structures and walls
Release date TBD
| CRAFTING |
Took the day today to get the Initial Crafting System in place. Still need to add in Crafting Stations but the Personal/Survival Crafting part of the Player Inventory is working as intended.
As you level up your skils you unlock new Recipes that you can craft. When you first unlock a Recipe it's "undiscovered" you have to figure out what items are required to craft it and then actually craft one in order to see what the item is. At which point it's icon and name will appear on the Recipe.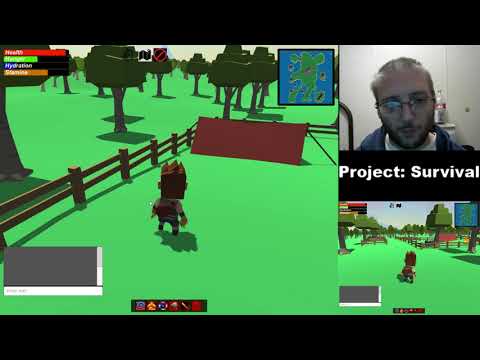 Company Owner
MMO Interactive