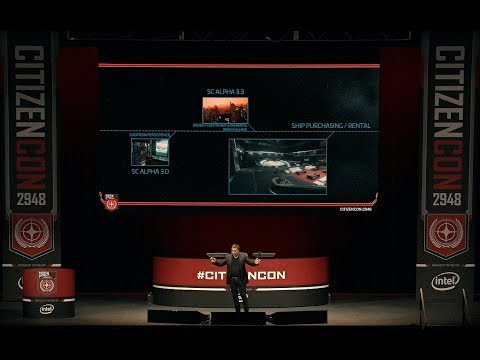 So in a way to shorten up this presentation, they have did a roadmap of the last major undertakings they have to do until they consider the game fitting for release.
As it was mentioned before, and now again in a much more direct way, SC will release as an MVP (Minimum Viable Product), and continue to update the MMO with start systems, features, and content that embed the scope of the game.
So, the last major goals to achieve before SC can be released:
Object Container Streaming -
This is the technology that is already under backer testing, this has been a long roadblock for the devs to add new content to the game without sacrificing performance beyond the unplayable tier; with the streaming technology the game is free to expand at once.
Ship Rental and Purchasing -
This is the core long-awaited mechanic that is starting to release 3.3.5 this November, the earning and progression to be able to play with or own the ships you want was since the very start the announced model, and it's now getting to the time this translates into implementation.
Organization System -
This is the guild system of the MMO being implemented on the game, with the normal guild features you'd expect in one MMO from communication, the organization and economy.
Full Persistence -
Now this is the ambitious part of this roadmap, they want a very strong persistence on the game-world, with the ability to do changes in the world that do not simply despawn, players do things, and they persist, in a nutshell quoting "this is not a theme park", especially not the type of MMO where you just play through that static game-world and that's it.
Server Mesh -
This is the end-game of development and the last thing to mark the release transition, the ambitious MMO backbone of SC, the server mesh is to be capable to spin and segregate a single game world instance into many servers as necessary, while it's not possible to cope with both a single server or your client to render a huge amount of players, it will on the entire scope of the game-world that is huge, meant to allow thousands of people in a system.
So while some of those items are very close like the OCS and the in-game ship earning, it's most deff that the rest of the major points will still take years, but at least a BETA of SC, under the MVP approach, is not as far away as some here tend to think, but deff not before 2020.