This is an interesting Q&A with new info about SC's SP campaign.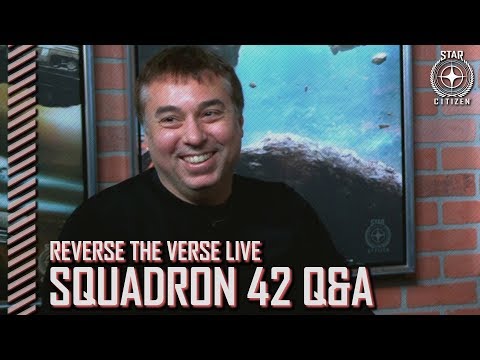 Transcript
Q: What's up with the F8 Lightning?
A: You don't get the F8 Lightning until Squadron 42 is out. Basically the way it works, there are a few ships where, if you make it far enough in Squadron 42 that you can fly those ships, then you get a badge in the PU to be able to buy those ships in-game with UEC.

As a thank you to the backers who have supported at a very high level, they get the F8 Lightning outright once Squadron 42 is out. To be clear, this is the F8C that people can acquire. Not the F8A which is what you fly in Squadron. The F8C has civilian equipment while the F8A has military equipment.
Q: Will Squadron 42 let the player be a female character?
A: Absolutely. 100%. As they are still working on animations, they only wanted to use one skeleton/character (the male) so that they don't need to fix the animations on both. Once the animations are finalized, they will create the full animation set for the Female. Characters are fully customizable and your character will carry across into the PU.
Q: What are the thoughts on the perks that can be transferred from Squadron 42 into the PU?
A: You will unlock badges in Squadron 42 which will allow you to get certain things in the PU. Through relationships in Squadron 42 you can unlock missions and content in the PU. There may also be a Veteran's group in the PU which will give you missions if you completed Squadron 42.
There will also be specific areas for UEE service members. This will also carry over to other groups - there will be specific areas for the Merchant's Guild for example. This will work similarly for Organizations.
Q: The recent monthly report saw a slight redesign of the Vanduul Blade which also carried through to some other Vanduul ships. Will this redesign affect the Vanduul Glaive or Scythe currently in the game?
A: Probably not very much. Bringing the style of the Vanduul ships closer to Glaive and Scythe. They needed to do some redesign on the Vanduul fleet for performance reasons, reducing the bony look of some of the ships.
Q: Will Squadron 42 have different endings? If so, will the different endings have an effect on your character in the PU?
A: It will affect your character in terms of what they've earned. The concept is that as you play Squadron 42, it fills out your journal. The things you do unlock things in the PU.
There is only one successful ending to Squadron, the others being dying or getting thrown in the brig.
You can play Star Citizen while playing Squadron 42. As you get to certain points in Squadron, you will unlock things in the PU.
There are some optional unlocks in Squadron 42, so whether they're to you in the PU entirely depends on whether you unlocked them in Squadron.
Q: What are your plans for future chapters of Squadron 42 and their tie-in with the Persistent Universe?
A: Squadron 42 is a triology, a three-game arc, and the events of the entire trilogy will be set before the setting for the Persistent Universe. Episode 2 and 3 will add unlockable content to the PU similar to Episode 1.
Episode 2 and 3 are starting to be fleshed out. Performance capture for Episode 2 and 3 will likely be filmed back-to-back.
Episode 2 and 3 will happen a lot quicker than Episode 1 due to all of the foundational tech work needed for the first episode.
Q: Head tracking - TrackIR and Tobii and like that - will that be implemented for Squadron 42?
A: Pretty confident yes. There was a version of Tobii and head tracking already working but unsure if currently working.
Goal is to have head tracking working, as well as Faceware.
Star Citizen should be VR friendly as well, such as diegetic UI. The current holdback there is that there is still so much base level work going on on the engine - including the Vulkan/DX12 refactor. Lots of optimization.
Once the base level engine stuff is finished, VR support will be added.
Further on, look will be able to be disconnected from aiming.
Q: Will the Coil be in the PU?
A: Yes, the Coil will be in the PU. Odin will be in the PU.
Have to get the Jump Points in to the PU to allow you to get there.
You will be able to visit some of the locations from Squadron 42.
Q: Will Squadron 42 include a difficulty option?
A: Yes, definitely. It's not going to be too easy though.
Q: Character customization in Squadron 42? Is it the same system in Squadron 42 as in the PU?
A: It will be the same system for Squadron 42 as the PU. The system for Star Citizen Alpha 3.1 will be pretty basic, switching between heads, hair, eye and skin colour.
The final system will have full options including facial morphing. This system will be in both Squadron 42 and Star Citizen.
It will be in-game. Part of your journey in Squadron 42 will include choosing what your face looks like and your gender.
Q: How will death affect the campaign?
A: If you die, you have to return to your last save point. Save points won't be as frequent as Call of Duty, for example. There needs to be weight to success or failure.