Information on Project 'W' | by NPCPak
Last Updated: May 23rd, 2017
This is a compiled list of information based off of information shared all over the internet. Be aware that not all information is 100% accurate as it hasn't been officially announced what the project actually is. Instead, you can take this information to create your own theories on what you believe Project 'W' will actually be. If anyone has any information to add, please comment on it down below.
Quotes
"Kakao Games has announced a new partnership agreement with Bluehole to invest in a forthcoming triple-A MMORPG. Kakao has obtained the North American and European publishing rights to "Project W", the MMO's code-name."
- MMORPG (Nov 3rd, 2016)


"The company has said that the 'W' stands for 'World'. It represents the developer's ambition to build a world instead of a game. They are also saying that it's going to have very impressive graphics (Note: Possible reference to using Unreal Engine 4.), advanced MMO technologies and surpass all existing MMOs."
- 2P (Nov 11th, 2016)

"Project W" and "Project EXA" will only be similar to TERA in terms of western fantasy design, and both new games will apparently utilize a brand new combat system, different from online games before."


"Veteran developers assigned to it include Project Director Hyung-Jun Kim, former Chief Art Director at NCSOFT... Kim also added that he would "pour out every resource there is to make a product that surpasses anyone's expectations for an MMORPG."
- 2P (Nov 3rd, 2016)


"... the CEO of Korean developer Bluehole Studio spoke to the Chinese media, and confirmed that no direct sequel for TERA is being developed."
- MMOCulture (June 30th, 2014)


"Bluehole Studio representative said that this game combines both social and strategic features and is different from TERA in combat."
- 2P (June 24th, 2014)


"Announced in foreign financial news yesterday, Bluehole Studio, the South Korean developer for TERA, has obtained a 13.5 billion Korean Won (around 13.3 million US dollars) in investment from IMM Investment and Premier Partners. It was revealed that the studio is working on 2 new MMORPGs."
- MMOCulture (June 24th, 2014)
Notes
• Project 'EXA' and Project 'W' were both announced June 24th, 2014
• The status on Project 'EXA' is currently unknown

• Project "W" is only revealed to be Project World
• It's mentioned that this MMORPG is to be a "blockbuster PC MMORPG", and it's planned to be announced some time in 2017.
• Project 'W' is to have the similar design of TERA: The Exiled Realm of Aborea, using some aspects of the original plan during it's development. As this was said, it was also mentioned that Project 'W' [b]does not[/b] plan to be a TERA 2 or TERA successor.
Alternate Notes
• Devillian originally was owned by Ginno Games, before BHS purchased the company, and is not related to these 2 projects.
• The Hunting Zone was a separate mobile game released by BHS, and is not related to these 2 projects.
• PlayerUnknown's Battlegrounds is it's own MMO and is NOT related to these 2 projects (see below).
PlayerUnknown's Battlegrounds

PlayerUnknown is a H1Z1 modder who created "H1Z1: King of the Kill" on Feburary 18th, 2016 (H1Z1 itself was released on January 15th, 2015 under the company Daybreak). With the date that his mod was created, it shows that both Project EXA and Project W
cannot
be related as both projects were first announced back on June 24th, 2014 by BHS. As of this find, I've corrected my information until I can find solid evidence to link Project EXA and the MMORPG. History under the concept of PlayerUnknown's Battlegrounds can be found within the Wikipedia article, including the fact that it did
not
take 3 years to make.
URL Source:
http://https//www.youtube.com/watch?v=wVgneYqw7R0
Additional Source:
http://https//en.wikipedia.org/wiki/PlayerUnknown%27s_Battlegrounds
Additional Photos
(
19
/
12
/
2016
) Hiring Advertisement for Project W
It's possible that Project W is going to run on
Unreal Engine 3
instead of the rumored Unreal Engine 4.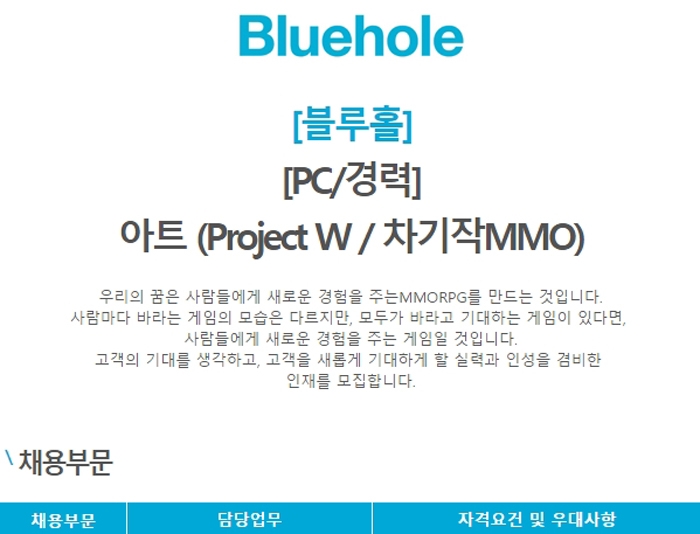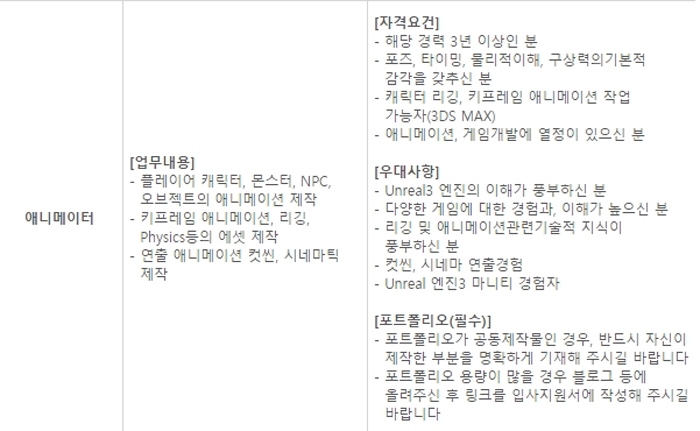 Additional Links
(
10
/
11
/
2016
) News Article of Project W
"프로젝트 W는 2017년 상반기 비공개테스트를 목표로 한창 개발되고 있다"
"Project W is being developed in the first half of 2017 with the goal of unlisted/private testing"
Other Information
Publishers: GameOn (Japan), Kakao Games (North America, South Korea and Europe)
Developers: Bluehole Studio (including staff from NCSoft: Lineage, Lineage II, Aion; XL Games: Archeage; Nexon: ZERA)
First Publicly Announced: June 24, 2014
Tags: MMO