I'm the Community Manager at the Greed Monger forums.
Currently there are no Devs working on the game and the owner, Jason Appleton has done nothing but have a public meltdown. He is blaming everyone but himself. As it currently stands, over 2 years later. He has yet to fulfill ANY of the legal obligations of running a KickStarter. And currently it looks like he has no plans to.
As of right now, this is the only stickied thread on the General Forums.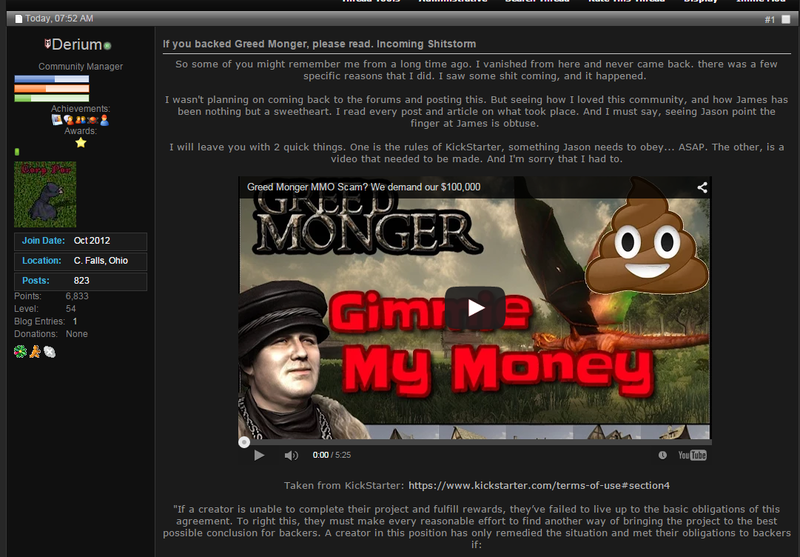 He has so far banned James, the old lead dev of the game. I lifted the ban, but I expect him to ban him, and strip me of my title as well.
If you donated to this game, please don't just give up. His entire staff is fighting for what's right.
I fully expect Jason to threaten me, seeing that's just how he does things. But if we do not kick up a fuss over this, then he will silently exit with over $100,000 in funds.
We are dealing with a man who had his lead developer work for free, on the back of a promise that he will get a percentage of the profits. Then he threatened to sue if he quit. Meanwhile Jason has opened other businesses. I wonder where he got the money for that?
Please feel free to ask me any questions that you may have. I also will stand firm in my belief that none of this is the fault of James (lead dev). Jason's ego is just too big to admit he got into a project that he can't handle.
You can read a lot more about this here:
[12/5/2012 11:05:49 PM] James Proctor: To get it done in a reasonable time it's going to take a team twice this size... Takes AAA companies with hundreds of people 4+ years just to release a MMO...
[12/5/2012 11:06:08 PM] Jason Appleton: No it wont. I've done my research man
[12/5/2012 11:06:27 PM] Jason Appleton: Early on I didnt know for sure. But I've been reading on gamasutra and other resources
[12/5/2012 11:06:48 PM] Jason Appleton: For the kind of game we are making it shouldn't take that long, not with the assets and tools we have available