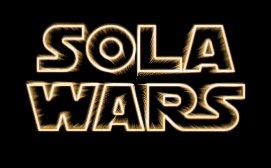 SOLA
A Community of Acceptance and Enouragment
SOLA was established by a group of online friends to provide an environment where gamers can enjoy, and develop a community of acceptance and encouragement. SOLA is a Christian led guild that is active in many current MMO's. While SOLA was founded by Christians, it is NOT required for membership.
The only requirement for membership is to fill out an application on our site and to agree to our code of conduct. All we really expect is that our members will be respectful to others and uphold the honor of the guild.
SOLA is looking for more members for our SWTOR guild on The Harbringer Server.
We are searching for people who want a different kind of guild, one that is interested in community and not drama. We desire to have our leaders serve the community not rule over it.
Our Goal is to be known as friendly and helpful members of all the games we play, including SWTOR. We will strive to provide safe and clean chat channels, forums, and mumble for our members and their families.
We have gamers of every type, young and old, hardcore and casual, PvEers and PvPers. We will work to be active in all areas of SWTOR and we will strive to accomplish everything SWTOR has to offer.
SO if your interested in a family friendly environment for you and your family or if you just want a community that knows what it means to be supportive come check us out at www.solaguild.com.
Check out our recruitment video and swing by our site to join us in SWTOR!
May the Force be with You Always!