The ULTIMATE Aion FAQ


Taken from our friends @
AionSource.com


Last Revised 16/05/09


General info:

What is Aion?

AION: The Tower of Eternity is an upcoming fantasy based MMORPG from the gaming corporation NCSoft, it is considered to be one of the most visually stunning games in the market today and for good reason. Players take to the skies in an unprecedented level of aerial integration as they fight to protect not only their race but the world itself.



What is the current status of Aion? / Beta status
Aion is currently released in the Korean market however due to IP filtering US/EU based players will not be able to connect.

The Chinese version of the game did go live March 26th, 2009 and US/EU players can play. Japanese beta was recently announced.
Also worthy of note is the fact that there will be no NA or Eu closed/open betas. It seems sufficient beta testing was conducted in Korea eliminating the need for us to go through one. While that will lower the spirits of some people fear not! NCSoft will be hosting "preview events" shortly before release to get some feedback and let people get a feel of the game. Please note that participation in these events will be heavily restricted. Sourced from Ayase.


How many subscribers does Aion have?

Three days after Chinese Aion officially launched SDO announces that they have reached over 1 million paying accounts for their version of Aion. This is only counting the Chinese regions, not Korea or any other countries.
Click here for official announcement.


Basic Storyline (Lore)In AION, players must choose a side between two warring factions: the Elyos or the Asmodians. Once their world was whole; a perfect union joined at the center by The Tower of Eternity. When a great catastrophe shattered The Tower of Eternity, it split the world into two halves - and awoke the Balaur, a warring race exiled within the Abyss. The Balaur now seek revenge on both of these new worlds, sparking an epic conflict. The conflict between those 3 races is about Aether, a substance needed for flying, and the Abyss is the only region where you can find this material in huge quantities. The part you play, the side you choose and the decisions you make will help determine the ultimate fate of AION. The American Aion website also features lore extracts from the perspective of the Elyos and Asmodians.



Key Features
Interactive gameplay systems The actions of each faction on every individual server will eventually trigger consequences, which will then change the server's live environment. This should lead to differentiation between all realms. (Some have suggested this system will be based, to an extent, off Guild Wars).
PvPvE (Player vs Player vs Environment) Aion: The Tower of Eternity features an evolving conflict system, which manages the complex relationships and alliances between realms, races and guilds. The system also takes into account a third NPC faction, the Balaur, who may act as the enemy - or the ally - of players in various situations. Some players have noted from the Korean Betas that the Balaur AI system is somewhat lacking, NCSoft however appears to be working on this.
Free flying and flying combat Take to the skies and soar over the landscape, with wings that allow your character to access remote areas, travel to different parts of the world - and to engage enemies in aerial combat!
Beautiful and detailed graphics Created using a modified version of the Crytek engine (as used in Far Cry), AION: The Tower of Eternity is the most graphically beautiful MMORPG yet released. Astounding levels of detail on characters and in environments immerse you in the world of AION. There is however a common misconception that Aion will be running off the same engine as Crysis and therefore those who struggled to play it shouldn't waste their time with Aion. However whilst Aion will be running off the CryEngine Crysis was created with the CryEngine 2 . See this if confused.


Is Aion free? P2P?
Aion has been confirmed as a monthly subscription game as originally anticipated, the exact monthly fee has yet to be determined. The actual box has been estimated at $40 for a regular edition and $60 for a "Collector's" edition. (Noting that there has been no official comment on the possibility of a Collector's Edition)
Every region has the right to change it's subscription type so NcSoft Austin may differ from NcSoft Korea and NcSoft Europe




Factions & leveling:
Elyos and Asmodians are the playable races. Elyos are 'Angelic' and Asmodians 'Demonic' in appearance. Neither is necessarily good or evil from a lore perspective.
While there was originally differentiation in skills between Asmodians and Elyos with the Stigma stone system it appears that these differences have been removed. While this is still subject to change in the NA/Eu versions it seems quite unlikely that there will be any differentiation now. See Hellrose's Stigma Guide for further details.
AION's current proposed level cap is 50,naturally that is also subject to change.


Wings and flying:
Due to Aion's unique system the skies have opened up like never before!
The quest for becoming a Daeva (taken at level 9) earns you your wings at level 10. When you first obtain this ability you will only be able to use flight for a one minute period with the "cooldown" being twice that. However as your character progresses there will be items/abilities/situations that will result in higher flight times.
Elyos and Asmodians both get wings however these will be uniquely styled based on the race.
You can fly freely or follow a flight path (Which appears to be the same concept used in WoW, albeit far more stylish), depending on the area. Using a flight path to get to an area will not exhaust your flight bar as you are using some form of "spiritual bird" rather than your own wings. It is assumed this will be a far faster means of travel that standard flight as well.
Wings can be personalized or upgraded through PvP. Specifics are yet to be announced.
Some skills act differently or are available only when you are flying. That makes the flight system more of a strategic element than a transportation mechanic.




Elyos Wing Stages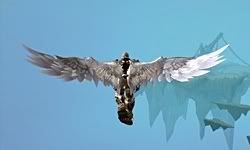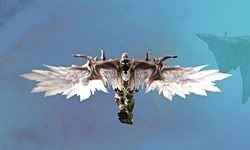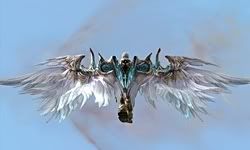 Asmodian Wing Stages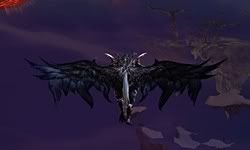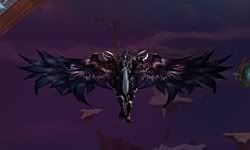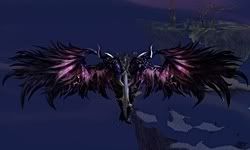 Differences between Elyos and Asmodians
Wing and Amour styles are different
Both races have developed their own unique languages, this effectively stops all communication between the races in-game.
The opposite faction is considered your sworn enemy, this stops all grouping/questing with them.
Obviously different starting zones, this will become less apparent at the higher levels as both factions are forced into the abyss.




Classes
Names will be the same for both Elyos and Asmodians.

There are currently four "schools" of classes.

Upon character creation you will be prompted to choose a "school, upon completiung your Daeva quest you will branch into one of two possible options.

School of Warriors - Fearsome and hulking, a Warrior's way is found more through brute force and great resilience than guile and trickery. However, do not be fooled into thinking Warriors are only brainless, or simple-minded
Gladiator: Gladiators are the true melee masters of Atreia; vicious and beastly - constantly training to perfect the various fighting styles their class excels in. Much like the Warrior class that they emerged from, a Gladiator's power comes from sheer, brutal strength - to see one of these behemoths in combat is a truly awe-inspiring sight.
Templar: The Templar is a brave soul who must hold the front line, using their shield to block and parry attacks while waiting for a weakness to show itself before retaliating. A Templar becomes more powerful when struck; indeed they can only reveal their full potential when they are in the midst of combat.


School of Scouts - If the Warrior is about grit, power and sheer strength, then Scouts concern themselves more with speed, agility and awareness.
Ranger: Rangers are experienced Scouts who have shunned the idea of working within a regular military unit, choosing instead to work alone or in specialist teams. They are solitary figures with finely honed survival instincts and the ability to endure even in the harshest of environments. In fact, I have only met two Rangers in my lifetime, both of whom were strikingly shy figures, and never seemed at peace in the populated areas of our world.
Assassin: Assassins are a mysterious class, and though I studied them for many years I'm afraid I found out little regarding their methods. However, it is clear that these men and women are valuable characters indeed, able to strike silently and with devastating consequences at vulnerable targets, effectively bringing down whole groups with a single action. I have heard whisperings that they follow no god, and instead follow the star of death for instruction.


School of Mages - Mages are at once incredibly powerful and yet exceptionally vulnerable - able to deal out terrifying, awe-inspiring levels of damage, while taking little in return.
Sorcerer: The sorcerer is in many ways the natural successor to the Mage - the amount of anguish these elite few can cause is simply staggering. While Mages spit out fireballs, I have seen Sorcerers summon raging infernos, and when a Mage casts chains of ice, a Sorcerer can reply with freezing blizzards and blinding snowstorms. Their talents have single-handedly turned the tide battle before; such is the power they possess.
Spiritmaster: Spiritmasters are a unique class, in that much of their power is actually derided from the abilities of the elementals they have learned to summon. I have known this to cause a degree of stigma from other Daeva as the power they wield is not really their own. However, that is not to say that Spiritmasters are weak - indeed the extra protection granted by their summons makes them far more durable than Mages and Sorcerers.


School of Priests - Finally there is the Priest, arguably the backbone of any successful party. Their ability to keep friends alive even in the direst of circumstances cannot be underestimated.
Cleric: The path of the Cleric is a natural progression from the Priest, as they will be granted the ability to cure even deeper wounds and protect ailing friends from cruel enemies. Legend has it that our most powerful Clerics can even bring humans back from death, though I must admit I've never witnessed such a miracle myself.
Chanter: It's about versatility, Sabahla. With one hand, the Chanter will bring down a staff on their enemy, while the other summons a shield to protect a fallen comrade, all the while shouting words of encouragement to the rest of his men.


Class switching?:


Will gender have any affect on stats/skills? :


List of skills/video :


Combos & Divine Power

Combos
Certain active attack skills/spells only become available after you successfully land a particular skill/spell. This way you're able to chain 2-3(maybe more) skills in succession which should result in extra damage being inflicted.
For instance, fighters should be able to use the skills Explosive stike(attack skill) -> Stun strike(knocks enemy over) -> chance strike(attacks fallen enemy)
Those 3 skills have to be chained in that order because Stun strike won't open up until explosive strike has successfully landed.
Rangers also get a similar 3 hit combo attack similar to the fighter. Priests have an AOE spell combo that knocks all enemies over followed by an attack spell. But you get the basic idea now.. its just chaining certain skills to inflict lots of damage in a short amount of time and watching the cool flashy animations.


Divine Power
It is said that Divine Power(DP) skills are powerful abilities used to turn the tides of battle.
The DP gauge located under the character's HP and MP bar fills up as you hunt regular monsters and must be at 100% to activate the skill.
Certain DP skills can be released to do high volumes of damage to enemies around you, others can be used for things such as mana regeneration and/or reduced casting time.
These skills will typically feature a slow casting time so make sure you time them right!
The DP gauge doesn't decrease over time when you're not hunting so you should be able to store it for that crucial moment.
As the DP gauge fills up, the amount of damage you do to monsters also increases. (Perhaps a rumor)
The DP gauge will reset when you disconnect however.




Party combinations?:
Rumors are certainly swirling over the possibility of party combos:


PvP
PvP in Aion will be very control-oriented. Skills that have clear relationships with each other are to be expected where some are used in combination and others to counter.
PvP-specific skills will be available for usage around level 40. The player can, however, still choose not to participate in PvP unless he/she wants to. (Possible Rumor)
The time required to reach maximum level has been reduced since the last Friends and Family Test. The level progression will be similar and comparable to that of many western-developed games in the genre. After reaching the level cap (currently 50), players will be able to improve their characters on a more horizontal plane by using the stigma system along with equipment combinations.
For players who don't enjoy PvP, there will be various PvE activities to take part in such as raids, instanced dungeons and so on ? All connected to the great war. An example would be PvE players collecting items for big siege weapons to support their faction.
The main conflict within Aion: The Tower of Eternity is a great conflict raging between the Elyos, Asmodians and the Balaur. This is also where the content focus will be.
Rifts are also possible routes to PvP, providing a gateway between the Asmodian and Elyos homelands.


Where?
You can PVP in the Abyss and there will be some zones outside the Abyss where the Elyos and Asmodians will be able to interact.
You can only duel your own faction.
There appears to be a siege system in the works also.
Entering instances (dungeons) for PvP purposes also seems to be possible.. That means if the Elyos guild named "X" is doing an instanced dungeon, the Asmodian guild "Y" can enter the same instance and kill them.
There also seems to be a practice arena, although this is currently just for fun, with no ranking systems.


(The Abyss)








PvE
There will be two types of raids in Aion. The first type is similar to that of Lineage, with huge amounts of players participating. The second type requires more strategy and class-specific skills (perhaps more comparable to that of Everquest).
A Raid NPC/Monster for the Elyos might be an important NPC for the Asmodians which leads to the possibility of raids influencing the faction war.


Abyss & Castles
The Abyss will consist of two distinct parts. The first part is aimed at beginners and is meant to introduce players to the Abyss concept. The second part is connected to the real war and meant for more experienced characters.
The Abyss will be home to 8 to 10 castles that can be captured by either faction. The advantages will have extreme consequences. Your faction will be able to gather crafting materials easily. Besides that, traders live around the castle and will sell special weapons only to your faction. Finally, the ruling guild will receive taxes from the land. The rest of the faction won't get any money from it. Only when the enemy retakes the castle, another guild will have the chance to benefit from the many advantages of the castle.
High-end leveling seems to be centered around the Abyss, killing the Balaur in order to obtain XP.Leveling in the abyss seems more effective than leveling in the outside (due to the greater risk of getting killed, the XP reward from mobs will be greater...)
Rumor has it that castles can be upgraded with defensive structures and NPC guards. Yet to be confirmed.
Siege weapons can also be obtained through PvE (raid boss drop)
This way, PVE players help the war opposing faction, without doing PVP, but the idea is to bring people doing PVE to start PVP and PVP players to do some PVE
Abyss thread #1 - translation
Abyss Thread #2 - translation


Items, Armors, Tradeskills

Items & Armor
The types of items in Aion are divided in to three categories: Normal items, Abyssal items and Drakonic items(?) (names are still to be determined).Abyssal items are received via PvP and Drakonic items(?) will be available through crafting of items acquired from hunting the Balaur (Drakonic items are yet to be implemented)
All rare and above armors bar rings, trinklets and neckleces contain gem slots. Items of different rank (or rarity) typically contain a different amount of gem slots - Green: 2, Blue: 3-4, Yellow: 5-6. Bearing in mind that crafted items seem to have a slightly randomized amount of gem slots. These slots can be used to embed gems, increasing various stats from HP to fly time. (Further analysis pending once we have solid figures)
There will be some Soulbound items, meaning that once equipped, they can not be traded anymore (as made famous by Everquest).
You can customize armors with dye
When some sets are full/complete, they will glow around the character.
item uniqueness : Let's take your situation as an example; at high levels, everyone will be wearing the equipment that provides the most stat benefits. In Aion, there is a system where you can transfer the stat bonuses from one piece of equipment to another. Let's say you have the an awesome sword by the name of Zariche which looks absolutely awesome, but an even better sword looks pretty dull (in your opinion anyway). Through Aion's system you can upgrade to the better sword while keeping the awesome looks of Zariche.




Characteristics & Stigma :
The developers do not want players to have to worry about character attributes (such as Strength, Dexterity, Constitution?), which is why attributes are automated and controlled by the game.
One of the things differentiating characters is the Stigma system. Stigma is a sort of stone containing the memories of a Daeva. A Stigma stone will, in a nutshell, allow players to create unique characters with skills or equipment from other classes. Examples of the combinations that can be acquired by utilizing this system are Wizards wearing heavy armor. It has been confirmed that NCSoft has removed" the cross-class Stigma stones in order to maintain character balance.
5 Stats given by armor : Magical defence, Physical defense, Focus, Evasion & Mana.


Tradeskills, professions & crafting :
Six diffeernt professions are currently available in the game. These are Weaponsmithing, Armorsmithing, Jewelcrafting, Alchemy, Tailoring and Cooking. Discussion over these professions can be found here.