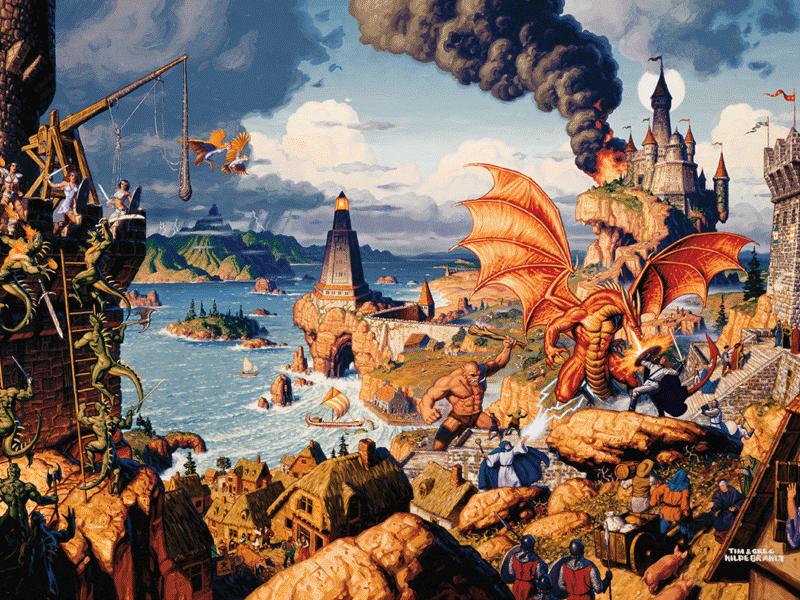 Look at the painting above, this is Classic UO and is what UO was meant to be!




Question: The original UO medieval virtual world is the only era of UO game design that was groundbreaking and interesting enough to capture gaming's attention for a few years, 1997-2000. Why not truly return to UO's roots with a new UO Classic game in modern 3d? Such a game would actually be worthy of naming Utlima Online 'Kingdom Reborn'.



The current Kingdom Reborn is a farce, UO 'Gold' and the 7th Anniversary, using the original UO artwork, were marketing scams, and the rest of the UO expansions since The Second Age are utter crap. That is seven years of garbage development! Isn't it about time to return UO to the high quality and innovative product of it's Origins?





What does Classic UO mean? What was original UO design?





1. Virtual systems and economy; balanced game designs, supply & demand, highly rare items, player crafting paramount. All towns have their advantages and disadvantages.





2. Interactive NPCs, that are in every way possible similar to players, carrying what they have bought and selling what they have been sold.





3. Strong theme integrity. If the game is based on medieval fantasy, then stick with the theme! Dragons, knights, bandits, lords, ladies! NO flip-flops, sunglasses, purple hair, giant ridable bugs, etheral ghost mounts, giant snowmen, death watch beetle protection talismans, numbers and stats plastered all over the place, robots, ninjas, and definitely no neon. It's pretty simple.





4. Interactive and interdependent community. Focus on a character's freewill to roleplay in any way he sees fit, but with appropriate deterrents. No forcefields, invisible barriers, or absolutes. Allow player competition in all aspects of the game.





The current UO is a mess, it's about time it is cleaned up. Why not be the one to return UO to it's former glory?





If you need consulting, don't be shy, I have years of experience, and will provide it for free, give me a PM and I'll give you my phone number!