Destiny Awaits



My first glimpse of the ship filled me with awe. I'd seen boats before, of course; small craft that would cautiously cling to the safety of the coastline. But this was a tall ship, the kind built to travel across dangerous oceans that were only now becoming navigable. Vessels like this hadn't dared to journey across the seas since the cataclysms began, so to see one for the first time made my heart leap inside my chest.



Though I'd never ventured very far beyond the outskirts of my home village, I knew the tales of the great war, the Rending, and of course the Shattering. The eldest among us taught this dark history to the young ones, telling of a time when our world was a vastly different place. Some of them were afraid of what existed beyond the confines of our village, but not me.



I?d always felt a calling, as if something was out there waiting for me. I had grown up with no idea what my future would hold or how I was to find it, but I could never shake the feeling that my life wasn't meant to be spent in a small seaside village. So when the ship arrived and the crew came ashore looking for volunteers, I knew it was my chance.



Saying goodbye was difficult. I didn't know if I would ever see my friends and family again, but this was something I had to do. I joined the crew of the merchant ship and met some of the other recruits who, like me, had chosen this new life. There was Geredo, a clever gnome; Valik, the strong and agile kerra; and Anikra and Balen, a married half elf couple. While I didn't intend to spend my life as a seafaring merchant, it seemed like a gateway to the sort of excitement I was looking for.



Little did I know that excitement was about to come looking for me.



The brigands attacked without warning. It all happened so fast, it's still a blur. There was a brief battle, but we were ill-prepared to fight against such seasoned pirates. They threw some of us, like poor Balen, overboard. I either jumped or was knocked off the deck; I can't be sure which. The last thing I remember is grabbing hold of Anikra and clinging to a piece of wreckage as the brigands sailed away. Then the darkness overtook me and I blacked out.



I awoke on board an even bigger ship, with markings on its sails I didn't recognize. I stood slowly and looked out across the rolling seas.



I suddenly realized that there was a whole new world out there beyond the waves, and it didn't belong to gods or dragons or the armies of the past; it belonged to me, and to others who longed to explore the mysteries of the unknown. This was our time, a time of destiny, and I knew that I would soon become part of a world that I had never dared imagine.



The captain is calling out. I think the adventure is about to begin...





You will start your adventures in several starting areas...

Isle of Refuge - Good: This is where followers of Qeynos will start. Pledging to server Queen Antonia Bayle you will gain strength and treasure to prepare yourself for the wider world.
Isle of Refuge - Evil: This is where followers of Freeport will start. Under the banner of the Overlord Lucan D'lere you seek to crush your enemies and pillage the spoils of war.
Greater Faydark - Nursery: This is where you can choose to start if your a Fae, Elf, Gnome or Dwarf. Returning to Faydwer you seek to reclaim your home before the shattering.
Darklight Woods - Hate's Envy: Evil races including the new Ariasi may find they wish to serve Queen Christanos instead of Lucan D'lere where you will grow in power as a citizen of the famous dark elf city of Neriak.
Timorious Deep - The Sarnak are reclaiming their homeland in Kunark in search of their past. This zone is designed for level 1-20.
Game Manual



Official Everquest II Manual (PDF)
Game Trial


Everquest II free trial





Where to buy?
You have THREE options to purchase Everquest II: All in One Pack
Digital download from Sony Station Store
Digital download from Direct2Drive
Retail copy in your local game store.
Click here for more information




Everquest II



EverQuest II is an online universe that exists parallel to the hugely successful gaming phenomenon EverQuest. Featuring breathtaking graphics and a vast, beautiful game world to explore, EverQuest II sets new standards in graphical realism as players are immersed in the game's powerful epic storyline with thousands of players online.
Set 500 years after EverQuest, EverQuest II is a new and different game experience in a world marred by a series of massive cataclysms. Players enter this world by creating their own unique character from 18 races and 24 classes, using a powerful customization system for unprecedented player individuality.
Players will encounter hundreds of creatures as they travel across the majestic landscape of rolling hills, barren deserts, dense forests, and bustling cities. Thousands of new items, hundreds of new spells, and unparalleled adventures await all who enter the world of EverQuest II.
EverQuest II also features:
A massive online world for thousands of players to explore, filled with danger, adventure and mystery
Voices for almost every non-player character (NPC) in the game, a huge project encompassing nearly 100,000 lines and 130 hours of dialog (the equivalent of more than 65 feature films worth of content)
Unparalleled character customization capabilities. In addition to thousands of pieces of armor, weapons and items users can equip, players will be able to customize their character's facial appearance to an incredible level of detail and personalization
No race/class limitations, allowing players to truly choose who they want to be
In game Player-owned real estate (such as apartments, homes, and guild houses)
State-of-the art combat, spell and skill systems
New, user-friendly game mechanics with reduced learning curve for both new and seasoned players Trade skills available to all player classes
More than 160 unique creature types, from Orcs and Goblins to huge dragons and menacing Living Statues
A state-of-the-art, cinematic quality 3D graphics engine capable of improving as hardware technology advances
Everquest II Collectors Edition Tin


The Collector's Edition includes a number of in-game items, including "paintings" of
EverQuest II
scenery to be hung on the walls of a player's house, magical talking statues of Antonia and Lucan (voiced by Hollywood talent Heather Graham and Christopher Lee), and an exclusive pet
baby dragon
. The Collector's Edition also includes an exclusive art book, bonus DVD with trailers, gameplay videos and behind-the-scenes footage, a soundtrack CD, a collector's coin with a velvet pouch, a cloth map of Norrath, and two posters.
For Collectors of Everquest II game boxes and items check out this website.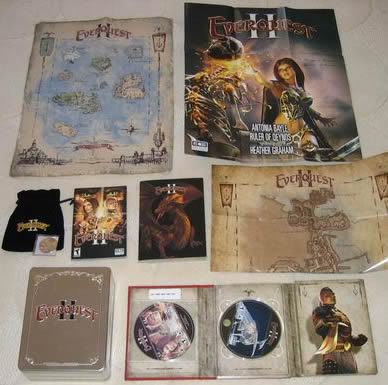 Expansion Pack 1 – Desert of Flames



Arena Champions: Take the form of exotic creatures or fight as yourself in battles for glory against other creatures or players.
New movement: Search for treasure and find adventure in new areas by climbing up and down cliffs and walls.
Voice-over emotes: Express yourself in a battle or expand your social circle with new voice emotes.
Guild vaults: Share the loot of a hard won battle with the rest of your guild members.
Level range increase: Now play up to level 60 as both an Adventurer and Artisan!
New land: Discover over a dozen new zones and epic encounters.
New creatures: Test your combat skills in battles with over 30 new fearsome creatures.
Pickup EverQuest II Desert of Flames at a retailer near you and get a special genie bottle and gazing orb for your character! Your genie bottle will carry you to a magical place where genies spin tales and reveal secrets of the Desert of Ro and their kind, while your gazing orb will offer visions and guidance in answering questions that confound you. Also an in-game pet monkey.




Expansion Pack 2 – Kingdom of Sky
Higher Level Advancement - Now reach level 70 as an Adventurer or Artisan
All-new Achievement System to further specialize your character's abilities
Guild Advancement Expanded to Level 50
Brand New Pieces of Armor, such as Profession Hats, Helmets and Pauldrons, will make your character look more distinct!
Four New Arena Champions and Two New Arenas
New Heritage Quests allow players to gain amazingly powerful items, personal status, adventure experience and even a reward made famous in the original EverQuest or EverQuest Online Adventures!
Signature Quests which reward large experience bonuses, personal status, entirely new items, and advance the lore of EverQuest II!
If you purchase Kingdom of Sky at a store near you or an online retailer you'll receive a full-color poster sized map of the Dragon Isles, the third limited edition collectible EverQuest II coin, and a special in-game carnivorous plant for your house that'll reward you with potions in return for edible items.




Expansion Pack 3 – Echoes of Faydwer
New playable race - The Fae
New starting location - Kelethin
Over 350 all-new quests
Content and zones available for players of all levels (1 - 70)
Cloaks that can be worn by your player character
All-new Profession Hats and Armor
Over 20 new adventure zones
Over 40 new types of creatures
New rewards for PvP (Player vs. Player) combat
New player housing, items, equipment, spells and tradeskill recipes
Levels for Guilds raised from 50 to 60
Retail version includes all expansions and in-game rewards and a new mechanical whirly-gig pet for your house.
Expansion Pack 4 - Rise of Kunark
All-New Player Race – Start up a brand new Sarnak – the classic dragon-like humanoid creature that now inhabits Timorous Deep. Exiled from your homeland and magically altered, discover how your new breed came to be, and eventually return home to help your race triumph over the evil Iksar.
New Starting Area – Begin your adventure from the new starting area in the islands of Timorous Deep. Conclude your day of epic quests and retire to new housing within the Village of Gorowyn.
Level Cap Raised – Continue your adventures on your existing character in Kunark, expanding on your achievements as Adventure, Tradeskill and Guild levels all increase to 80.
More Unique Zones – Advance your way through new massive regions, containing many zones filled with nostalgia and danger, such as The Emerald Jungle, Skyfire Mountains, Sebilis, and Karnor's Castle.
Hundreds of New Quests – The tale of Kunark is told through hundreds of new quests, aimed at gameplay of all types: solo, group, and raid.
More Weapons & Armor – New Epic Weapon quests for all 24 classes, with new weapons for both those who raid and those who choose not to. Battle through the opposition and acquire additional fabled and legendary armor sets as well.
New Mount – Explore the world on the shoulders of a new rampaging beast - The Kunarkian Rhinoceros.
New Deities – Recent activities on Norrath have again attracted the attention of the gods. Bertoxxulous The Plaguebringer, Karana The Rain Keeper, and the mysterious Tribunal return to exert their influences on planet. As with the existing gods of Norrath, players may pledge to these new deities to gain access to their Blessings and Miracles.
Dozens of New NPCs – Encounter and engage a wide variety of new enemies that inhabit the menacing lands of Kunark.
Adventure Packs


New City and Race
The lost city of Neriak has been rediscovered.
A new playable race, the Arasai, are now available for players who have Echoes of Faydwer.
New characters created for Neriak will start in Hate's Envy, an outpost in the Darklight Wood.
A whole new LFG system is available. Find friends, slaughter foes!
House moves just became less of a chore!
PvP players can no longer use zoning to escape combat!
An additional character slot has been added to all accounts & two for Station Access subscribers!


Veteran Rewards


Account active at least 1 day:
Account active at least 1 week:
Adventure XP bonus potion (28% XP bonus - Temporary)
Tradeskill XP bonus potion (28% XP bonus - Temporary)
Account active at least 1 month:
Wand of debt removal
Field Repair Kit
House Decoration: Weapon Rack
Account active at least 3 months:
Reforming stone that gives you a single respect to change your

traits, traditions, tactics, and training choices
House Decoration: Tombstone
Fireworks
Account active at least 6 months:
Adventure XP bonus potion (39% XP bonus - Temporary)
Tradeskill XP bonus potion (39% XP bonus - Temporary)
Account active at least 12 months:
Suffix title: the Loyal
Adventure XP bonus potion (55% XP bonus - Temporary)
Tradeskill XP bonus potion (55% XP bonus - Temporary)
Account active at least 18 months:
Fireworks
House Decoration: Pirate Flag
Account active at least 24 months:
Suffix title: the Dedicated
Magic Makeover Mirror
Adventure XP bonus potion (55% XP bonus - Temporary)
Tradeskill XP bonus potion (55% XP bonus - Temporary)
Account active at least 36 months:
Suffix title: the Distinguished
Adventure XP bonus potion (55% XP bonus - Temporary)
Tradeskill XP bonus potion (55% XP bonus - Temporary)
Veteran's Display Case - 50% Broker Commission reduction
EQ1 Heritage Title
Titles



I have read allot of reviews for Lord of the Rings online and they rave about how they have lot's of titles. Everquest 2 has LOADS of titles. Titles can come in different forms; some are for killing great numbers of monsters. Some come with your veteran rewards. Some come through completing an Alternate Advancement line. Titles are everywhere and you can work towards getting a title from level 1.





Alternate Advancement



After level 10 you receive AA experience for completing quests and killing named monsters. Through the game as you explore you will usually receive exploration experience which goes towards your adventuring levels, AND AA exp which goes towards AA points. After you collect a point you can spend it in a number of AA trees. There is usually a class tab and a specialist tab. For example: one tab might say Druid and the other might be a Warden which is a specialist druid. These power-up your spells and abilities and as you spend more AA points. One AA line will resurrect my druid automatically if killed.



Player Housing



Everyone get's a player house from start. You can invite friends over to visit your instanced house. Unfortunately SOE never implemented sitting and lying in furniture. However when you collect furniture and pets it's a nice place to chill with your friends. Guilds also can have housing that is much larger and more expensive. You can find pictures and facts about Norrathian housing in the Norrathian Homeshow Thread.
Coming soon Guild Halls. Currently EQ2 has large Guild Houses, but no specific massive hall.



Lore and Legend Quests



As the name says Everquest 2 it is the sequel in the Norath universe. Many long time EQ1 players remember the NPC's and places of EQ1. And EQ2 does allot to remember those NPC's. Lore and Legend Quests give you an opportunity to collect items from certain kinds of monsters like gnolls. The earliest L&L quest is gnolls. After collecting items off gnolls you receive an item for your house. The gnoll quest gives you a huge axe to hang on your wall in your player house. Plus it comes with a book that explains the history and lore of gnolls. There are loads of others as well. You will also receive a Master Strike spell against the monster you completed. Find a complete guide here.



Holiday's



Everquest has created unique Norathian holidays that mirror major US holidays. These include:





Frostfell – You take the wardrobe to a winter wonderland of dancing fawns and rainbow slides. A greedy gnome named McScoogle will give you a quest to meet up with three ghosts. Frostfell comes with unique Christmas themed clothing, Norathian city snow globes and a host of other Frostfell themed items.
Halloween – Halloween events include changing the heads of NPC's into pumpkins or black cats. Halloween trick or treat quests and loads of unique mobs to fight. Players can collect items to reflect the Halloween spirit and there is even a haunted house!
Brew Day (Saint Patrick's Day) - It's a time of drinking and quests.
Erollisi Day (Valentine's) - unique items and quests, as well as heart shaped candy to give to a bearded dwarf woman your sweet on. These holiday's and GM events are times to gain special rewards.


Robust Guild Tools
With the implementation of cloaks you can now have your own unique guild emblem shown on your cloak. The range of design possibilities is huge. In the game guilds can advertise their guild in a special screen helping guilds and players connect. And the guild tool tracks all the various activities of your guildies. If you pay an additional $0.99 you can have a tool to chat with guildies when you're not in game.




Status Points
In the game you can do certain quests and earn status. Status gives you the ability to buy certain items like horses and housing cheaper. It's also required for certain high level items to purchase. When you do these quests you gain status for you and your guild. Guilds themselves will level up and new rewards will be available to them. Guilds level based on status gained.




Collection Quests
Out in the world are scattered glowing question marks. These items are collection items. If you manage to complete a collection you can turn it in for an in game item. At lower level's these are usually not very good. Later on it can be very cool items like pets or unique house items.
Mounts
There are several varieties of mounts in the game
Horses (range from simple to parade)
Flying Carpets
Overclocked Gnomish Hovering Device (gas cloud type mount you stand on)
Ghost (Spirit) Steeds (translucent horses)
Nightmare Horse (flames shooting out it's nose and hooves)
Glorious Horse (glowing light from nose and hooves)
Warg (dog like mount from Lord of the Rings)
The Kunarkian Rhinoceros
SOGA Models
These character models were created as part of the EverQuest II East project, in which Sony Online Entertainment partnered with Gamania to form SOGA and truly localize EQII for the Asian market. Not only did we create new character models, but user interface modifications have been made (such as click to move) along with other changes to make EQII East appeal to the markets in China, Korea, and Taiwan.
Arena



There is a player vs player, group vs group arena in several of the major cities. These arena battles can be with your base character or as equal levels. You can also do monster battles where you change into a monster form and battle. There is more then one type of area instance, and more then one type of game. The arena is a great place for guild events and just kicking it with friends. You can read an Arena guide here.





Fan Faire



For all you Renaissance Festival, Convention types SOE holds fan fairs every year or so in a major US city. This year is in Las Vegas. It's your typical meet and greet along with live quest, swag and costumes. Usually there is a lot of eating and alcohol as well.





Station Exchange



Station Exchange is the official Sony Online Entertainment service that provides players a secure method of buying and selling the right to use in-game coin, items and characters in accordance with SOE's license agreement, rules and guidelines.



This service provides players a way to take part in this growing secondary market in a more secure manner.





Station Players



Station Players™ is the official online service that connects players to the EverQuest® and EverQuest II community. This web-based suite offers an array of features that give players incredible access to their characters and guilds by merging the game world with the world wide web.

Many of the features that are part of the Station Players functionality are already included with your subscription!
Guild Web sites, Basic Character Profiles, Personal Image/Screenshot Galleries and more may be available for our Station Player enabled games at no additional cost!
If you want to get access to even more in depth information about the game, see where your character ranks or communicate directly with your guild from the web (currently EverQuest II only), then you should consider the premium features that Station Players offers. From as little as $0.99 a month you can add a whole new dimension to playing our online games.
Legends of Norrath Card Game
Legends of Norrath is an online-only trading card game, based on the richly-detailed sword-and-sorcery world of Norrath from the massively multiplayer online role-playing games EverQuest and EverQuest II. Playable from within the MMOs and separately, Oathbound, the first set for Legends of Norrath features over 375 digital cards and is available in both a 55-card digital starter deck and 15-card digital booster packs. Play as one of many Oathbound avatars and decide your own fate as you choose between the paths of good or evil.
Decks include:


Rich History and Lore



Classes
Races
Artisans
Variety of Monsters
Screenshots
Herein lies the collected works of Articles about Everquest II as the game as developed. It contains history, lore, monsters of noteworthiness and places of interest.
Game Features


Mail a Friend using the Norrathian Express!
Food and Drink Basics
Dynamic Adventure Camps
New Mentoring System
The Latest Gameplay Enhancements
Hit it Big with the Gigglegibber Goblin Gamblin' Game!
Did You Know?
New Server-Side Spam Filtering
Blackguard's Botany Secrets
Places


Featured Zones: Blackburrow & Wailing Caves
The Solo Adventurer (Levels 20 to 25)
News Zones: The Condemned Catacomb and Gobblerock Added!
Featured Zones: Stormhold and Fallen Gate
Interesting Quests


Lore


Cogglesworth's Comprehensive Compendium of Legendary Figures
Cogglesworth's Comprehensive Compendium, Part 2
Cogglesworth's Comprehensive Compendium, Part 3
Cogglesworth's Comprehensive Compendium, Part 4
The Scrying Stones
A Light in the Forest


New Lore: James and the Far Talon
Sabotage!


Celebrate Erollisi Day!
The Plague!
Frogloks – 'Hunted'
Frogloks – 'Lost'
Frogloks: The Long Journey Home
The Froglok Spirit Has Been Freed!
Shore Leave
The Will of the Overlord
Live Event: New Griffon Towers
The Rise of the Orcs