Bless Online Open World Faction PvP Information
This info is from
http://steparu.com/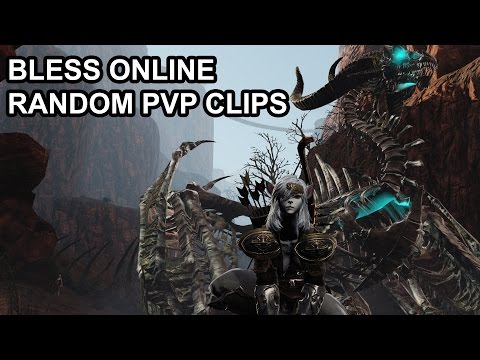 If you're the type that takes ganks seriously or random deaths, then you might need a new game. Getting gank isn't so bad if it's a player within your level, but do expect some max level player ganks here and there. I don't think there is any death penalty, but you're given an option to revive at the nearest resurrection point with a weakened state debuff or choose to run back to your rotting body for no weakened debuff.
Random Open World PvP Info
-Always Flagged for Faction PvP
-Can only PK enemy Faction
-No safe zones
-Level 30+ Quests Shared with Enemy Faction
-Certain towns have guards that aggro players in combat..?
-Players above 10 levels will show as "??" in their names.
-You get EXP for killing players!
-Channel System to Run Away or Hunt Players
-You can ninja PK AFK players!
-Can PK/PvP Right Outside Dungeon Entrances
-1v1 PvP over 6 Levels miss a lot of attacks.
-There is an Item that will make you immune to PK for 10minutes.
-Group Questing is more Common Level 30+
100vs100 Battlegrounds Info
-Only twice a day (Enforces Open World PvP?)
-Your Level will Scale to 45 (Previous CBT)
-Starts at 7:00 PM and 10:00 PM KST
-Extremely hard to get in populated servers.
-You can reserve/ninja queue at 6:50PM and 9:50pm
Other PvP/GvG (Stuff I'm Working Towards)
-Join a nice GvG guild.
-There is a castle and map/region control system.
-Queue faster to get in the 100vs100 battlegrounds.
-Do Castle Sieges
-Get Max Level :v

Age of Wushu 2 is a sandbox innovative triple A game built with Unreal Engine 4 that will be launched in 2018. It is based on "real martial art" concepts with naturalistic and societal survival elements. With grand scenes of the world, highly appealing picture atmosphere, rich details such as vegetation , architecture, characters and other real delicate texture performance, it is a combination of high-quality visual effects, bringing an user-level sensory experience. Whether it is physical destruction of the scene, or based on the true performance of IK technology in movement and combat, Age of Wushu 2 brings a whole evolution of gaming experience.
http://9yin2.woniu.com/