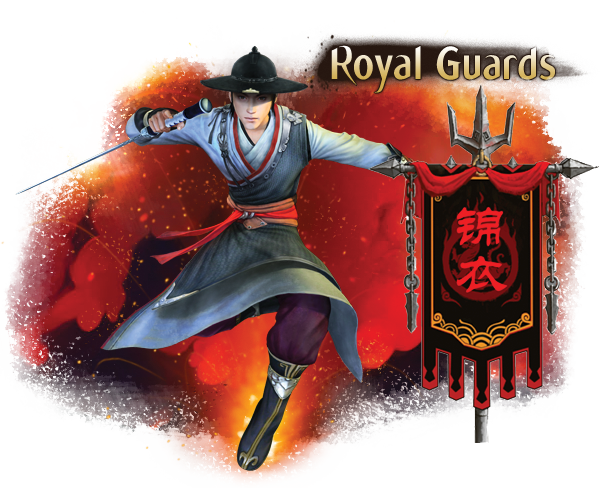 CLAN NAME: eXopac
CLAN TYPE: SOCIAL/FUN
TEMPORARY WEBSITE: --->>>Click for Website<<<---
SECT LEADER: Huangpu Xiao
CLAN LEADER: Fang-Shen
RECRUITING STATUS: OPEN - ROYAL GUARDS ONLY!


OUR CREED:
I AM A ROYAL GUARD
I AM A WARRIOR AND A MEMBER OF A TEAM
I SERVE HUANGPU XIAO AND LIVE RESPECT
I WILL NEVER LEAVE A FALLEN COMRADE
I WILL NEVER ACCEPT DEFEAT
I WILL NEVER QUIT
I AM DISCIPLINED, PHYSICALLY AND MENTALLY TOUGH, TRAINED AND PROFICIENT AT KILLING
I AM A ROYAL GUARD

--Huangpu Xiao



WHO WE ARE:
We are a premiere Clan for the upcoming MMORPG; Age of Wushu. This means that we are entering Age of Wushu together as our "First Game" and this will be our only concentration. We are not a Multi-Gaming Clan with our members split into numerous games. Our entire community is focused on Age of Wushu.

We also pride ourselves in being different than all other Clans here in Age of Wushu as we will be a School Specific Clan. This means that all members of our Clan must choose to follow the path of the Royal Guards. We believe this will limit our recruiting, but it will enhance our play as everyone will be together at all times and fighting for the same cause. We believe that focusing the concentration of the Clan into one school will inspire Unity, create cohesion, and streamline our ability to play side by side with one another at all times.

We have chosen Royal Guards because of what the Royal Guards stand for; Evil Martial Arts and Power. Join us or die!


WHAT WE STAND FOR
We stand for everything this game has to offer. PvP, PKing, Kidnapping, Book Stealing Events, Dueling, PvP Tournaments, Crafting, Life Skills, etc. We have no rules in-game except that we should stand for Respect. We have chosen the Evil side, but this does not mean we will be punks or jerks within the community or within our walls. We believe we can respect others and still have a great time killing them, pillaging their towns, and setting a blazing path at our backs. Understand that we do not tolerate disrespect to others inside or outside of the Clan.


WHAT WE ARE LOOKING FOR
We are looking for people that want to have fun and understand that this is just a game. Ask yourself these questions: Do you normally get along with people? Do you respect others even though they are different than you? Do you enjoy making friends? Do you like to have fun? Are you usually happy? Are you a good friend? If you answered Yes to ALL of these, then you will fit in. We are looking for people that Treat Others how they would like to be treated and are here to add to the positive energy of the whole.


WHAT YOU CAN EXPECT
We are going to be organized in the fact that events will be scheduled within the Clan. We will have weekly PvP Tournaments, Daily Team practice, Weekly Book Stealing Events, and other Social events. We want to be able to schedule a few events together so that our casual gamers can get on during specific times to play together side by side. We are not catering to the Hard Core players. Although you may have fun here still, you may not if you are impatient and need someone constantly there to direct you. We want self starters and easy going people.

We do not want anyone here that is unhappy with the above and thinks that this is not enough. If you want more from us, then you need to create the extra within these walls. What is named above is what you can EXPECT from us at a minimum. The rest is up to the players to create their own events. You get what you give other than the above events.

What we have found over the years is that people are so into "gains" and "firsts" that they forget to look around and enjoy the game they are playing. We are not looking to set records. We are not looking to get every single gain there is and maximize our playing time for gains, gains, gains. This is a game, we are in this to actually have fun, socialize, and kill other players along the way.

We may have "Recruiting Days" where we just all get together to hang out and Recruit other Royal Guards. It's a Social Clan that has a focus on having fun and we will do this by surrounding ourselves with like minded people.


OUR ONE WRITTEN RULE:
Thou Shall Respect
1) Respect your Clan.
Do not talk negatively about the Clan or its members to outsiders. If you have an issue, address it with the Leadership. We have a no drama tolerance and spreading rumors is not tolerated. Be a part of the team or leave it.

2) Respect your Clan mates.
Talk to people with respect. A little banter, becomes a lot of banter and the lines become blurry with who you can talk trash to and who you can't talk trash to. So in order to control any issues we may have, do not talk trash. Talking trash to you may be fun, but for others it may be offensive. Some people find swearing offensive- so don't do it.

3) Respect outsiders.
We do believe in being evil in-game and our craving for power will bring us to killing many people together. This does not mean that we should talk trash and ridicule people in-game. Do your business and kill as much as you want and how you want but there is no need to disrespect people. The lines are very clear here, so do not try to make up your own definition of respect. Kill someone 1000 times if you want to, but do not say; "You suck, go kill yourself" or any of the other things that online gamers say to get under people's skin. If they keep coming back to get rez killed or corpse camped, it's their own fault.

*Remember that outsiders are future members. Treat them with respect because they may someday be your brother/sister in arms.


Are you interested in joining?
Stop by our temporary Website and visit our forums.

FAQ:
I have had a few questions asked and instead of just posting them down the line, I will put the questions and answers here so everyone can view them without scrolling down.

1) Why did you choose to limit your membership to ONE school?
Answer:
Why?
I got a question asking me why I wanted to limit it to ONE school and what the benefits are.

Here is what I saw when playing and I was not a part of any Clans during my time playing, but I like to watch, observe, and take a stance from the outside when making a decision.

When you have Book Stealing Events or School vs School events, or when you are kidnapping or doing evil things you can be attacked.

What happens when your Guild is multiple schools? Do you fight your Guildmate for the sake of the School you are in? Do you allow your Guildmate to get away with stealing the books of your school because they are your Guildmate?

So many questions to be asked, so many questions to be answered. So many times in this game that you will have to choose Guild over School or vice versa. The lines can not be clearly drawn, especially to new members of the Guild.

Instead, I have chosen to streamline our play and make it to where we won't have confusion. We won't have questions of who we can and can not attack. There is no question because we are a Clan. Clan and School are United, which leaves no room for error. Again, the whole purpose behind having a Clan is to be UNITED as a team.

Thanks for the question.

2) Do members have to play only Royal Guard during Beta Tests?
Simple answer is NO.
There are no stipulations during Beta on what classes people play. We will start the Royal Guard Only at release. I encourage everyone to test this game to the fullest before launch.

Everyone should try as many classes as they can.
a. It helps you make an informed decision on which school you like best. No one should join this Clan if they won't be happy with their School choice.
b. It helps you understand the other classes so when you are fighting them, you know how to beat them and counter their moves.
c. It will ultimately lead to you having more fun. If you lose a lot, it gets annoying. Knowing all classes and their moves will ultimately help you become the best you can be with your own class. Although this game is said to be Rock, Paper, Scissors and certain classes are meant to take us out.

3) . . .

WARNING: This is a newly formed Clan.