Hello everyone and greetings...
Like i mentioned before, i dont want to talk more about Orr and all of that stuff because i didnt made it there yet, for i am not 80 yet. What i want to talk about are 5 men dungeons.
Many on these forum discussed if GW2 have PvE endgame at all. the point of speculation was if there is something to do when one hit maximum level (which is pretty easy achievement here, it seems). Many said that how hitting level 80 is pieece of cake and that made the game pointless. Others said, in other hand, how the "whole game is endgame", which is not true also. BUT...
Endgame actually starts somewhere in-between 30-40 level. How come? Well, at that period you will get your first dungeon modes unlocked, Ascalonian Catacombs that is... As you level up, for every 5 levels, new dungeon/dungeon mode unlocks. Finally, when you hit level 80, you got access to all possible dungeon modes and thanks to downscalling system, you will never outlevel dungeon content. And now here is the key difference between GW2 and earlier themepark MMORPGs
All PVE dungeon content is unlocked to you right away, and you dont have restricted access because of not having proper gear.
Ok, now, this have many things left for speculations. Like, what is the point then to farm gear? Why should i do the dungeons if i can access them all? Why would i waste time anyway on something not even needed?
Well, to get to my point more i need to explain how gear works. Take a good look at these pieces of gear. you can find them at dungeon vendors in LA: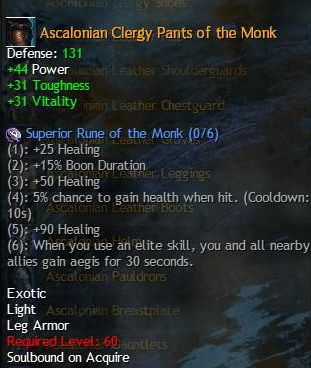 Take a better look at the armor sets. First one gives a condition damage bonuses and stuff, while the other one gives Healing bonuses and whatnot. What are special to these armor sets? Why bother to get them at all if dungeons are doable without them anyway? Well, while technically this is the truth, these mechanics from the sets are rather mechanics that fits to whatever playstyle you choose. Now, here's the thing:
a) Lets say, i want to play Elementalist with Fire/Water specialization. I want to go with healings and whatnot. But what if i dedicate myself to healing and my damage becomes low, what could i do in order to balance my damage and healing output? Well, who plays Elementalist, knows that Fire is based on condition Damage. So, in order to balance things more between DMG and Heal, i will collect first armor set from the picture.
b) I want to make an Water-based Elementalist that is dedicated to healings more because i love playing with healer. Ok, the things cannot be easier. I will dedicate myself to healing and i want to max out healing powers as much as i can (eventough that is not neccessary, but i like playing healer). So, the second set is what i need.
Now, back to the main point, now when we know better about the gear. Each of these to items belong to the set that is purchased with the token rewards from the two different dungeons' Exploration modes. Of the one dungeon runs, you will get about 10 of tokens. However each one of these parts of set cost somewhere in-between 180 - 300 of tokens. So, you will need about 20 - 30 dungeon runs approx. for one part of gear.
But is this turning the GW2 into another Gear Threadmill? Well, i definatelly can say that it doesnt. Why? Because all the dungeon content is available to you once you hit 80 level, or even before. And, these dungeons are doable without this armor sets anyway. However...
These armor sets will actually help you balance your build better, instead of being the "key" to higher tier dungeon, which is non-existant here. It is all still based on how you perform with your playstyle, but these things really helps and are not just the fluff like the people were worried about. Look at them like at the additional trait points or whatnot. And thanks to downscalling system, this gear is in no way obsolete, regardless of "Required level".
This would be it. I made this topic to explain more to the people that were worried or on the fence because of "what to hold my attention when i hit 80 and vertical gear progression is not there?". There shouldn't be any. You can do any dungeon at your leasure, like i mentioned before. And yes, with this system, PvE endgame actually begins on 35 level, once the Ascalonian Catacombs exploration mode unlocks.
I hope this will help and to see you in game.