Jade Quarry - Murder Herd - Join or die!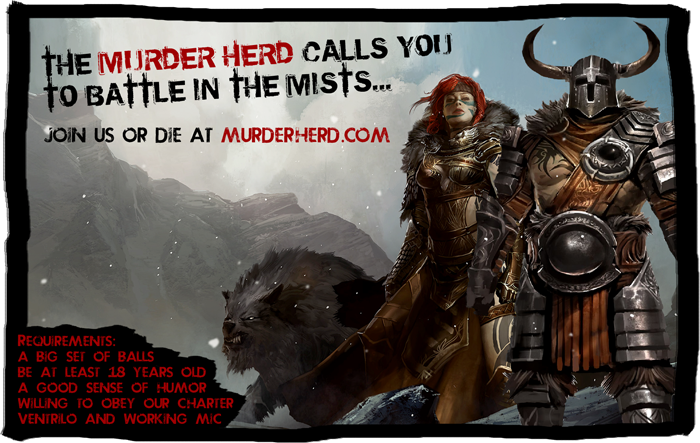 Murder Herd is on Jade Quarry! Currently recruiting PVPers! PVE also welcome...
That's right, Kids! The Murder Herd will rear it's horned head in Guild Wars 2, and we invite you to battle with us in WvWvW...

We are looking for some battle hardened PVPers who aren't afraid of getting dirty. Nerd ragers need not apply.

You can join us at forums.murderherd.com. Be warned, we don't accept lazy crap applications.

One of the only things we take seriously in The Herd is our Charter, because these aren't just rules, they are standards. If you break them you won't just be punished, you will be seen as unfit and removed.

Never Trash Talk
None of that "come on you f****t b***h attack me" or "lawl I just wtf pwnt you" crap.

Never Rage Over Split Pixels
If you can't handle getting killed in a video game or being insulted on the internet then you obviously have more serious problems in your life to worry about. Get control of yourself or get the f**k out.

Never Cheat or Exploit
We have a no tolerance stance on this, any kind of third party software usage, exploiting or general cheating will get you kicked the f**k out. We beat the crap out of people fair and square.