Best PVP gear obtainable through just doing world pvp? Seriously?! Sweet!
Maybe I'm kinda late with this but I haven't seen it discussed thoroughly yet.
Here's an article with a video of the PAX world pvp presentation: linkage
Some nice, short clips of the objective based world pvp on Illum with territorial control aspects. Sadly the sound quality isn't so great because he's mentioning some interesting stuff towards the end:
Next to objective based world pvp, apparently there are "11 hot spots" on 11 planets on pvp servers.
But what's more: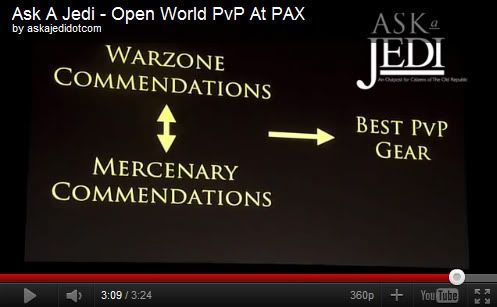 At least on pvp servers, to get the best pvp gear you need commendations from both warzone and mercenary (open world) accomplishments and you can EXCHANGE them with other players. This means that if you aren't much of a "pvp in a can" fan like me, you can still get your gear by just doing world pvp (or the other way around if you hate world pvp).
I really, really appreciate that
One of my biggest gripes with, for instance, WOW's world pvp was that endgame pvp rewards were tied in with battlegrounds / arena's and world pvp, especially in vanilla, was without any extra carrots apart from the fun itself.
Your thoughts?