Well that escalated quickly... :X
I was trying to start a new Daggermancer in GW2... and, well I had started all my 8 chars on an US server, because back then I was mostly playing on my nighttime. Now, I thought, he I could do some Guesting on an EU server when I play on daytime to meet some EU buddies. BUUUT, lo and behold. You can't. You can transfar. But you can't transfer ONE char to play there, oh no. You have to transfer ALL of them or none.
WTF?
And then they want 1800 crystal, because you can transfer. All. Or none. I mean, wow, that's quite expensive for something the system does automatically. Or maybe some 14 year old Indonesian child does in liek 30 seconds of pressing a few buttons!
And no, you can't create a new char on another server for the fun. Oh no, that wuld be too easy. You have to create ALL of them on the SAME server!
Seriously. WHO the heck decices such bullshit??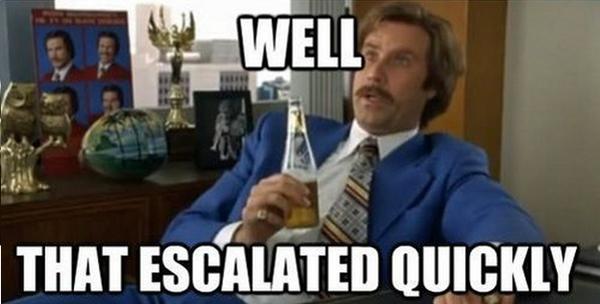 People don't ask questions to get answers - they ask questions to show how smart they are. - Dogbert