Howdy, Stranger!
It looks like you're new here. If you want to get involved, click one of these buttons!
Fuzzy Avatars Solved! Please re-upload your avatar if it was fuzzy!
ex-players: EQ2 15 days free gold sub, Dec 19 - Jan 3
http://eq2wire.com/2012/12/21/december-2012-eq2-winback-program-15-days-free-gold-sub/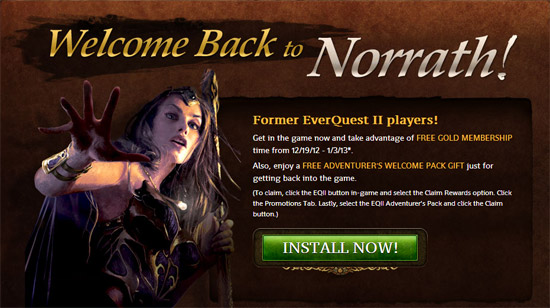 Former EverQuest II players!

Get in the game now and take advantage of FREE GOLD MEMBERSHIP time from 12/19/12 – 1/3/13*.

Also, enjoy a FREE Adventurer's Welcome Pack gift just for getting back into the game.
15 Days of Gold and Welcome Pack
Players who return during the 15 day window get the following:
Gold Membership until January 3, 2012
Adventurer's Welcome Pack (a $29 value)
(1) An Additional Character Slot
(2) Superior Potions of the Advanced
To claim, click the EQII button in-game and select the Claim Rewards option. Click the Promotions tab and select the EQII Adventurer's Pack.
Re-Subscribe and Get a Prize
Players who elect to sign up for Gold Membership before January 3, 2013 will also get to choose one (1) of these special items

Blood Saber Corrupter Armor Crate
Arcane Academy Deed of Ownership
Magical Storm Whistle
Once you have reactivated a Gold subscription, click the EQII button in-game and select the Claim Rewards option. Select the Committed Adventurer's Treasure and click the Claim button. When you unpack the crate in your inventory, you'll be able to choose the reward.
NOTE: This item will not be granted until two days after the promotional period ends.