I see a lot of worries and concerns about things like Cash Shop, money woes, grinding, and just recently the squishy/underpowered-ness of mages, specifically the Mesmer. The beta is just about wrapping up, so I'm going to post some screenshots of what I've accomplished over two beta weekends, just from playing normally. No cash shop or grinding, just exploring, crafting, and participating in events I came across. Keep in mind my weekends are free, so someone who works or is otherwise busy will take longer than about a week to do this, but just the same.
First up, gear! Note that this is the only image I will include in this post, click the provided links for more. Saves lower end computers exploding from tons of images: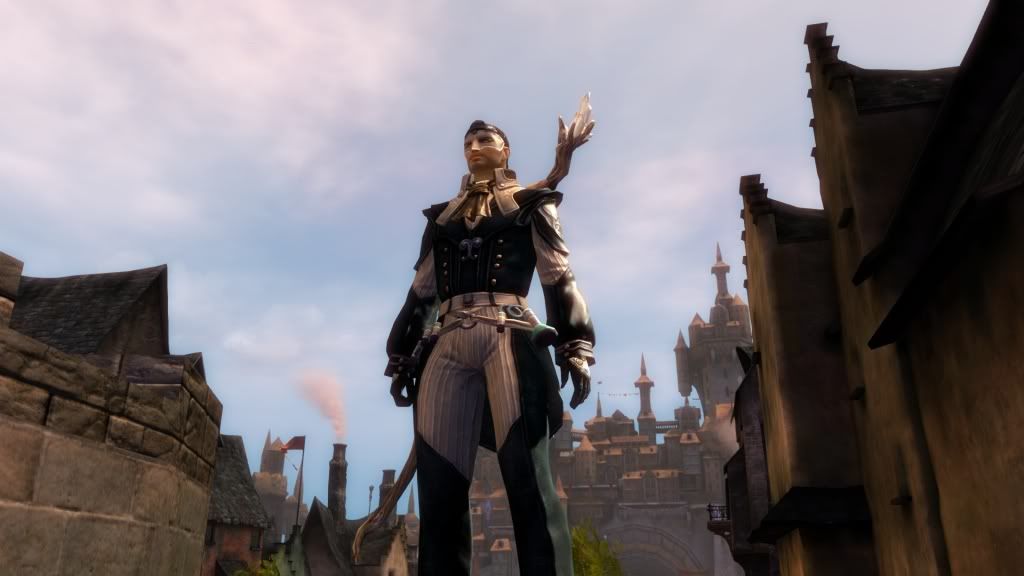 Aren't I purdy? That is 3 pieces (chest, legs and shoulder) of the Divinity's Reach Cultural armor, which are 1 gold a piece:
http://i1061.photobucket.com/albums/t479/gaeanprayer/gw111.jpg
If anyone is wondering, I used the free transmutation stones we got to combine that with my crafted level 35 armor, which I managed to make a full set of, including weapons. Jewelry provided graciously by a friend:
http://i1061.photobucket.com/albums/t479/gaeanprayer/gw099.jpg
I actually had the stuff for 40 gear, except for the rare mob drops which don't really exist yet, seeing as those mobs aren't in the beta. They're super rare drops from lower enemies, but the whole point is to avoid grind so, 35 gear was what I used. By the way as you can see from that item menu, I am level 42, with 800 armor, well over 6k health and almost 1k attack. Crit chance is pretty nice, too. After crafting everything, leveling my crafts, buying the 1g per armor and throwing money at alts to play around with, I still ended up with over 1g left over. At this point, I really had nothing to spend it on, so it'll just sit there until the next beta. Moving on!
I leveled both Tailor and Artificer to the beta soft cap. It's 'soft' because once again, they can go higher, but you need those mob drops which barely existed right now to make anything:
Artificer: http://i1061.photobucket.com/albums/t479/gaeanprayer/gw107.jpg
Tailor: http://i1061.photobucket.com/albums/t479/gaeanprayer/gw106.jpg
Yes, those are 12 slot bags that you can totally have 4 of. I never bothered to make them for myself, I never even managed to use up all the inventory space I already had. Being as I'm constantly breaking down items for craft mats, and can also right click and select "Deposit Collectible" to put them in the bank from ~anywhere in the world~, I never even managed to use up half of my inventory except when I was emptying lower level mats I wasn't using anymore to sell on auction. Which, by the way, I can also do from anywhere in the world. Reminder: need cash shop for none of this.
All of this and I still had plenty of time to do Ascalon Catacombs. Thrice!
http://i1061.photobucket.com/albums/t479/gaeanprayer/gw109.jpg
You get the headpiece to your armor for the story mode. I did it twice, once in a pug and once to help some guildees. Then, I did explorable!
http://i1061.photobucket.com/albums/t479/gaeanprayer/gw110.jpg
And got 41 of the currency you need to buy dungeon armor with. This is the one part that actually disappointed me in GW2. Initially, Anet said we'd get a token for one piece of armor per run. This is not the case anymore. For a full run, I got 41 tears, and each piece costs 100 tears iirc. And explorable mode? No joke. I don't plan on doing it again. That made the GW1 dungeons look like a walk in the park. Explorable mode is purely for the masochists among us. It was like Dark Souls, only without the uber death penalty. Although in GW2, you can't really 'out level' the monsters like you can in Dark Souls so, I guess it evens out.
Finally! How much of the world I've explored:
http://i1061.photobucket.com/albums/t479/gaeanprayer/gw108.jpg
32%, and I haven't touched the Charr 15+ zone yet. There's actually a bunch of stuff there that's still bugged and I got annoyed with putting in the effort just for things to bug out and not complete, so I stopped trying. I'm about halfway to level cap, established myself in the world, defined my character, and I haven't even explored half of the world yet. That currently exists...keeping in mind that we're playing an older build that's missing a lot of content, namely 100% of everything sylvari/asura.
Cash shop wasn't touched for anything involved with the gaming part of GW2 itself, I spent the free gems on dye. I also did not sell left-over gems, in fact I bought more with my silver, just enough to get 3 more character slots so I could have one of every class.
And now I'm going to go catch up on all the sleep I haven't had since Friday...
edit - forgot to make links clickable x-x fixed.