Hi everyone.
For those of you that don't know me, I am abentwookie from Last Chaos and other games. If anyone here actually played the game some of you may know me as GameSage Groove (formerly) or NerdRage. I am here to discuss the truth about a situation involving this truly horrible and corrupt company known as AeriaGames.


Before I get into this I want to apologize in advance for posting such a long message but some things need to be said about this disgraceful gaming company. If even one person is considering playing a game published by this horrible company and I can change their mind, then I did my good deed for the day.
If you want to know more about this crappy company, feel free to go to the Krash Facebook Suppport Group we made to support our favorite former GameMaster and get out the truth about Aeria's lies. www.facebook.com/group.php
I am also working on an Anti-Aeria website with a forum for people to freely speak their mind about bad experiences they have had with Aeria.
I spent two years playing Last Chaos and at one point was one of its most loyal players before things started going down hill after they hired a new Product Manager for Last Chaos. Before I get into this I should explain a few terms so everyone knows what I'm talking about:
A GameMaster is one of the people that runs the game and they are paid employees of Aeria Games.
A GameSage is a volunteer position held by certain players that are voted for by the community and GameMasters. Their job is to pass along RT numbers from players to GameMasters, hold events in game, help players with questions and problems, find hackers, silence goldspammers, and many other things. The GS position is a massive amount of work, believe me. They don't get paid actual money but they get free monthly AP (Aeria Points) to use to buy things in the Item Mall. So the position sometimes attracts people who are in it for the AP and not to help the community.
And the Product Manager (aka KSilent) is in charge of everyone.
I was a GameSage for over nine months before being suspended for "being too negative" regarding the path AeriaGames and its new product manager, ksilent, were taking with the game. I was told I could come back to the GS team after a few months but said no because I didn't want to work with Ksilent, especially after he claimed I didn't do anything as a GameSage. And of course he said this after only being with the game for less than two weeks. lol So I posted a goodbye thread on the Last Chaos forum and told people what happened, which resulted in tons of posts from Sarissa (my server) players and the rest of the community supporting me and telling them how much I did for the players. So naturally the thread was removed to silence everyone. lol Ksilent has a history of trying to hide the truth from people. I was told by another GM that I would be allowed to come back to the GameSage program after a few months but I turned it down because I didn't want to work for a person like KSilent ever again after he insulted me the way he did.
After the incident I decided to take a little break from LC but eventually came back after a while. When I came back I decided that I was going to play the game with my friends try to ignore Ksilent. I managed to do that pretty well until last week.
I came online to discover that the best GameMaster (Krash) LC ever had was leaving AeriaGames and later that night I discovered WHY he was leaving. I started getting messages from several people who told me that Krash had been fired and Ksilent was involved. And after talking to the right people, I discovered it was true. At this point, my days of ignoring Ksilent were definitely over because he had crossed the line this time. He can say what he wants about me but when someone messes with a friend, I become the most ruthless and relentless person you'll ever meet. So I immediately went on a rampage against ksilent and was immediately perma-banned by him and my posts were deleted.
Krash was the most popular and best GM Last Chaos ever ever had and did more for it and the community that people like ksilent ever will. He treated players like actual people and not just credit card numbers. He put more effort into his events than any other GM. He was always hanging out with players in the shoutbox and chatting with us. And when I was a GameSage, I could always count on him to help when I had a problem that I couldn't solve myself. I think its safe to say it would be nearly impossible to find someone who would have something negative to say about Krash, other than possibly the hackers that he banned.
So for them to fire him so suddenly like this shows exactly how little AeriaGames cares about their employees and the community. We're all just numbers to people like Ksilent. And Krash was one of the few that actually gave a damn about the community.
Needless to say, my reaction wasn't pretty. lol Krash had asked me not to do anything to get myself banned but anyone that knows me will tell you that once the fury starts, its already too late. :P I have no ability to edit what I say once I become that angry so I just completely went off on my old friend, kSilent. I publicly called him out and challenged him to be a man and admit what he did in front of the community. lol After I had gathered some support from other players in the shoutbox, he finally appeared. As expected, his response was a perma-ban for myself and one of the others. No chance of him being a man like I suggested.
After that two popular GameSages (KayFromHell and Sabbath) started speaking out publicly, only to have their posts deleted and accounts banned like me after being thrown out of the GameSage program. He even called Sabbath a disgrace just for speaking her mind. Then he went on a rampage, quickly banning anyone who dared to say anything about the subject publicly, including two more GameSages, Serafina and Isador. He also banned Fentanyl, one of the highest ranked Titans on the sarissa server, for something he said about Ksilent in private guild chat, which had never been done before in the history of the game. And many other members of the community were banned as well for voicing their opinion about Ksilent's actions. Since Ksilent fired Krash and went on this powertrip many high level players have either been banned or quit the game as a result of these actions. Anyone that posts something on the forum about it gets their posts immediately deleted and their accounts banned. Ksilent is scared to death of the truth getting out to the community but its already too late for that. lol
So now LC is quickly dying because the community has had enough. It was actually dying for abour the last year or so but Ksilent is really helping to speed up the process now. A lot of players have left for other games like Aion, WoW, Perfect World, etc...
Don't waste your time or money on this game. Any former high level player will tell you how messed up the game is and how corrupt Aeria is. Since Aeria hired a new Product Manager (Ksilent) for LC the game has gone downhill pretty fast. And firing Krash was just another stupid decision made by this person. Krash spent years trying to make Last Chaos better for it's community but in the end was suddenly tossed aside by Aeria like garbage.
The game itself has reached the point where leveling to the cap (which is at 165) is nearly impossible without spending THOUSANDS of dollars or an insane amount of time. Someone said it would take about seven years without buying tons of AP. One of the small number of people that has reached the lvl cap each time its been raised literally spends around $100 a day to accomplish that. And before you can even START leveling, you have to spent a long time farming for Skill Points. Again you have the choice of spending a small fortune to buy the AP items to make it easier or you have to spend a crazy amount of time SPing before you can even begin to level.
And the game is riddled with bugs, the pvp castle sieges are messed up, each class only has one race and gender available to it, and it has a new insanely over-powered class. Instead of fixing the problems, they just continue adding new stuff. And they don't listen when testers tell them there are problems with the new stuff so they just add more and more bugs to the game. Its just become a waste of time, especially when Aeria continues making horrible decisions that effect the game. The only redeeming quality is the wonderful community in the game. They are the only reason I continued playing the game for so long.
The corruption and lying is a serious problem... I witnessed plenty of it myself from the inside when I was a GameSage. Hacking is against the rules unless you spend a lot of money on AP, then you basically get a free pass to hack. Sorry guys, I kept silent about this for too long. Several huge AP buyers had hacked in the past and been given their accounts back. Account sharing is also a bannable offense and many people have been perma-banned for it, yet some of the big AP buyers get their accounts back anyway after they account shared. In fact, Ksilent knows of certain high lvl people (AP buyers of course) account sharing right now and has done nothing about it. There have been countless examples of people providing solid VIDEO proof of people cheating and whenever its a big AP buyer nothing ever happens. And the corruption that goes on involving castle siege? Yeah, its true. They do pretend certain things never happened when I've clearly seen myself that they DID happen.
Want to see some proof of Aeria's corruption and lies??. Here is some from another former GameSage and one of its most popular, KayFromHell. She posted screenshots and chat logs of some of it.


----------------------------------
The following is a message that was posted (and quickly deleted by Ksilent) by KAYFROMHELL (Former GameSage on Katar) on the last chaos forum.
----------------------------------


To all of you:
I got IP banned right after I spoke to you guys,on sunday night, at 00:45 PST. I got the notice on 3 accounts in the same time. That's how they silence us. Keep in mind what I told you. And they just proved my point. This post might be deleted or moved as soon they will see it....so take a screenshot of this post if you want to pass the message to others.So please do it quick!! Also save the pictures from the links!!!!
I, KayFromHell, been a player for 2 years on LC, and a complete year as a LC GS. For a year I reported players hacking this game, saw them come back after only few days, I had to fight to get GM support and the only ones who really helped me were GmKrash, Stratos and OgreKing. Without Krash, the game will go downhill because he was the only one fighting for the GSes, he was trying his best to help us, and they fired him like he was nothing for AGE, after 2 years of hard work for them.
Nobody asked me to do this. I created my own rebellion. I went on Katar 1 sunday night to speak the truth about those facts:
-Yes, the GSes are getting paid in AP every months. I could say several of them are in the program for the AP since anyway you can't grind if you can't afford to buy 300$ worth of stuff for a level. But we had to lie about this. But I got several times 20k ap per month, it's the limit we can have. It's the price to lie for them and run the events THEY should do, doing THEIR customer support and keep YOU in game.
-Yes, AP buyers are controlling the game. According to your budget, you cannot be banned more than 24hrs. In the worse case, it will be a week. So if you spend money on this game you can dupe,hack, cheat, scam. As long you buy AP, you are safe.
- Remember the hacking issue on H and K server guys? They were aware there was a hacker and they did nothing. For a complete day they could have done something. Instead, they were blaming a stupid expo. You got hacked and you never spend money for AP, say goodbye to all your efforts. But if you are a 5 star customer, no worries, you will have your armor back and all your stuff. But for the others.... So I been giving my own stuff to hacked players several times, using the GS AP to fix their mess so many times...
- YES. They hacked Stratos. And we had to lie about it. There will be a link of my YIM logs at the end of this post. So the ppl who got banned because they were trying to prove this in the shoutbox were only getting silenced.
- We, testers, warned them about the Roy issue when the auction house came out. They were aware the players could find a way to dupe the items. They sent the auction house anyway on the live server while it was known it would be a mess. Same thing for EP2 patch, several glitchs been reported and they let the patch go live anyway without fixing them.
- They know who been duping. But they were AP buyers.
-They kicked a GS for inactivity because he was in the army. But there is GSes who don't run any events, does no support, pass no RTs and they are still around. That's a bloody WTF. And the one helping the community, like me or Sabbath, get removed.
-Aeria_ks1lent. The biggest doubleface of them. This is how he treats the GSes. Click Here. With his lies, saying they ban hackers and gold buyers when we all know it's lies and more lies...
-Kali. Put a 21 years old girl in charge and see how chaotic it becomes. She is in charge of the GSes. She's supposed to support us and help us. What do we get ? Nothing, she can't answer to our questions, she can't control the GSes meetings so she had to call JediMike to observe what was happening and she don't give a fk about us. You wanna see how it is to be a GS ? CLICK HERE. We can't get announcements, we can't have GM support if she is not on. See the list of the ppl we could contact. This email been sent last month. We were not allowed to ask Krash anything or it was a strike. And he was the only one helping us. That's the power of the GSes now. They are chained and have to say what s1lent want us to stay. Kali have no clue about the game at all, she plays Aion, along with s1lent.
The GSes won't be able to tell you that I am right, or they will get banned. And some of them are so stupid anyway they don't realize what company they represent.
sanjose.bbb.org/Business-Report/Aeria-Games-and-Entertainment-241000
This is the BBB for Aeria Games. Feel free to comment and spam them.
Abentwookie, you gave me inspiration for something. And I am sorry, I apologize, you were right. But it's too late now. I had to say it.
I met awesome people in 2 years in Last Chaos. The ones who knows me know one thing : I am always honest. I am making this post so you, the players, the top spenders, the friends I have, know the truth about this company, and their cr4ppy management. I lost my account already anyway, well, 5 of them. So this is my gift to the community I helped the best I could : the truth.
Links: Proof that Stratos got hacked

i52.photobucket.com/albums/g8/metalkay/Stratoshacked.jpg


The super rules the GSes have to follow, and in bonus, Kali's email.

i52.photobucket.com/albums/g8/metalkay/GSrules.jpg


How s1lent treat a year old GS when she was only saying her opinion

i52.photobucket.com/albums/g8/metalkay/gs.jpg
Stop buying AP. Leave LC. Leave them in their own sh.it ! Get your friends with you. Keep this precious time for something else. AGE don't give a d4mn anyway about you guys, and the GSes are only toys they can replace at their will. My friends, it was a pleasure to be with you for 2 years. But the frenchie is now gone.
* LOL * While I was writting this post, my new account got banned for spamming when I never did anything with it yet HAHAHA : See it here lol

i52.photobucket.com/albums/g8/metalkay/Bannedagain.jpg


So, for you, Keith, who will delete my post, I send you my best regards: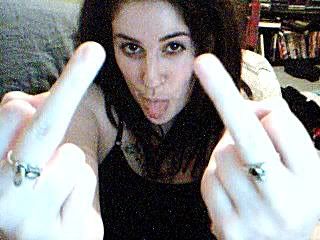 ----------------------------------
To sum up what we both said, stay far away from Aeria Games. They don't give a damn about the games, the players, the GameSages, or even their own employees. Trust me when I say their "D" rating with the Better Business Bureau is well deserved.
Goodbye Last Chaos....