Info from:


http://www.ffxivcore.com/index.php?/topic/92-ffxiv-classes-revealed/


Overview:
Humans are now called Hyuran, and have undergone basically no change. Tarutaru are now Lalafell, and have grown a lot taller in this game. Galka are now called Roegadyn, losing their tail and gaining size in comparison to XI. Whether or not there are any new races is still unknown.
Races:
Hume: Hyuran (NA) ????? Hyu-ran (JP) (pronounced "Hyoo rawn")

Taru: Lalafell

Galka: Roegadyn (NA) ????? Rugadein (JP) (pronounced "Roo ga deen")

Elvaan: Elzen

Mithra: Miqo'te
Job System:
There are four categories for now (meaning more will be added): Warriors, Magus, Crafters and Hunters/Fielders. In each category, there are different jobs:
Warrior: Swordsman, Archer
Magus: Enchanter, Sorcerer
Crafter: Smith, Cook
Gatherer: Gardener, Fisher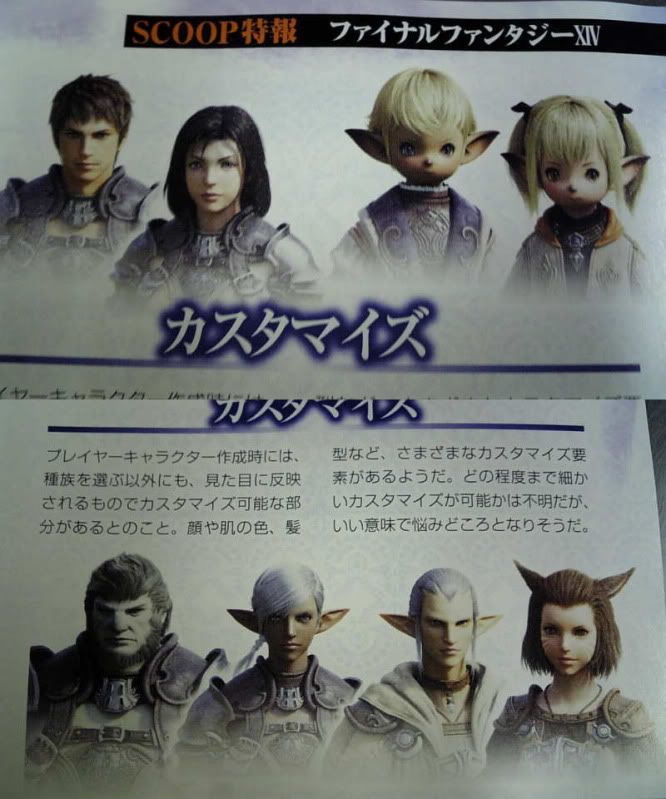 Translation for this picture: "When you make your character, aside from choosing the race, you will also be able to customize their appearance. Head, skin color, hair type, etc, there will be multiple factors. Just how exact we will be able to customize their appearance is still unknown, but we mean it in a good way when we say that it seems like it will become a worry to many players".
Path of the Crafter
By using crafting tools you will automatically start your path of the Crafter. Seems like crafting will play a major role in FFXIV. Classes included in this path are Chef and Blacksmith, among many others (most likely).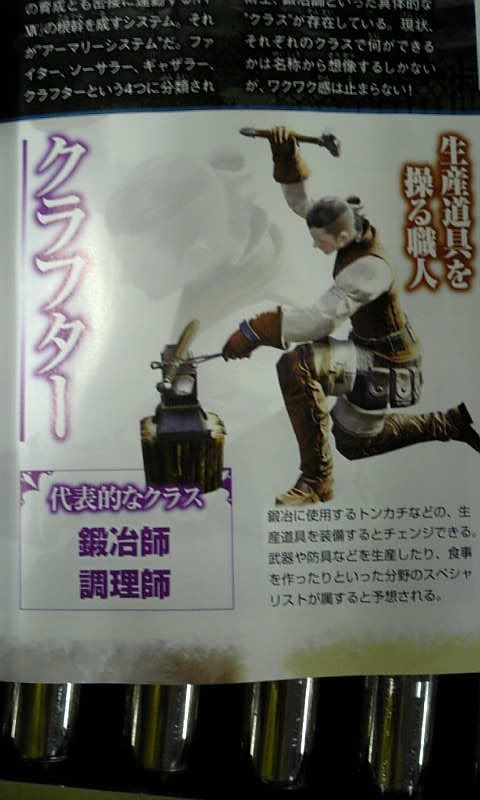 Lalafell
No information is known yet.
Path of the Sorcerer
This path, the path of the Sorcerer is for those who want to have magical weapons with enormous powers. The classes are a bit unsure as of yet, so we'll wait with speculating.
Roegadyn
The Roegadyn race live near the Northern Sea. Some of them work as bodyguards and mercenaries, while others live an interesting life as pirates. They're also quite muscular.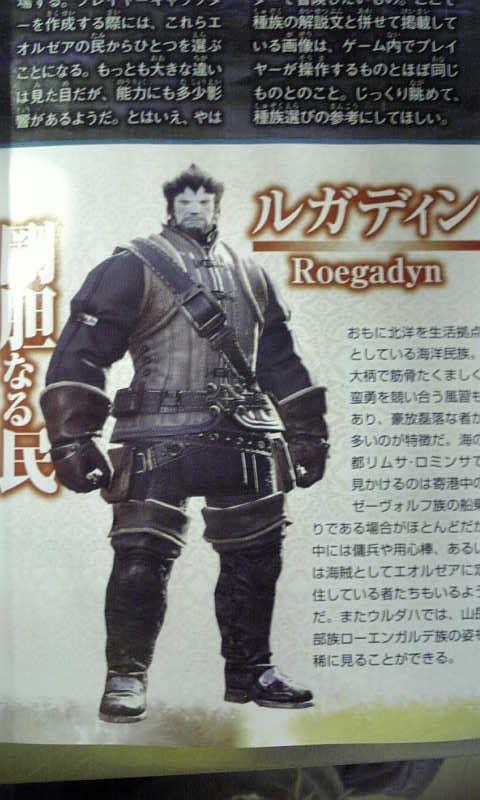 Path of the Gatherer
Just like the path of the crafter, the gatherer path is begun by using harvesting tools. The image you see below is a man equipping a hatchet. Among the classes you can be, there will be Fisherman and Gardener.




Hyuran
The Hyuran race will be the standard race of Eorzea. Kind of like in Vana'diel. Furthermore by translating the article says that they've migrated to Eorzea from islands and continents nearby. Also, they brought with them technology and innivation that has raised the civilization of Eorzea to new heights; which you can see from the FFXIV trailer. As for the language and culture among the Hyuran race, there's a lot of variation. Highlanders and Midlanders are the main "classifications". Basically, who migrated into the mountains and the hills.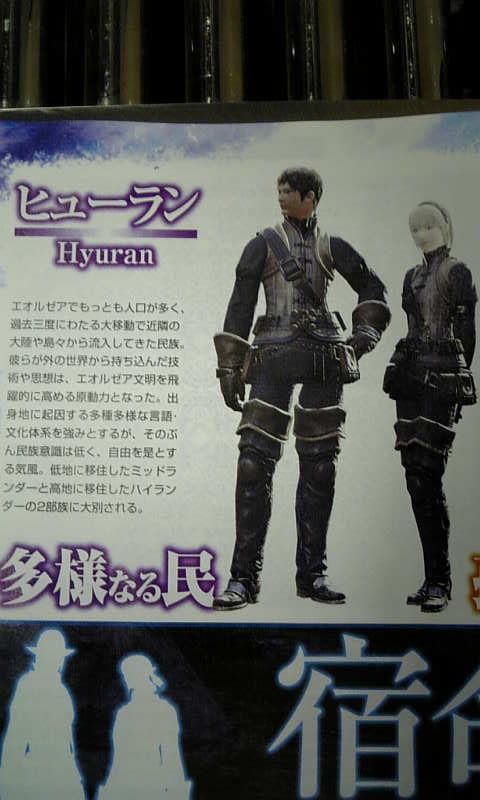 Path of the Figther
The information about "the path of the fighter" says that it is for those who wish to wield great weapons of battle. Two classes that are part of the "fighter path": Archer and Swordsman.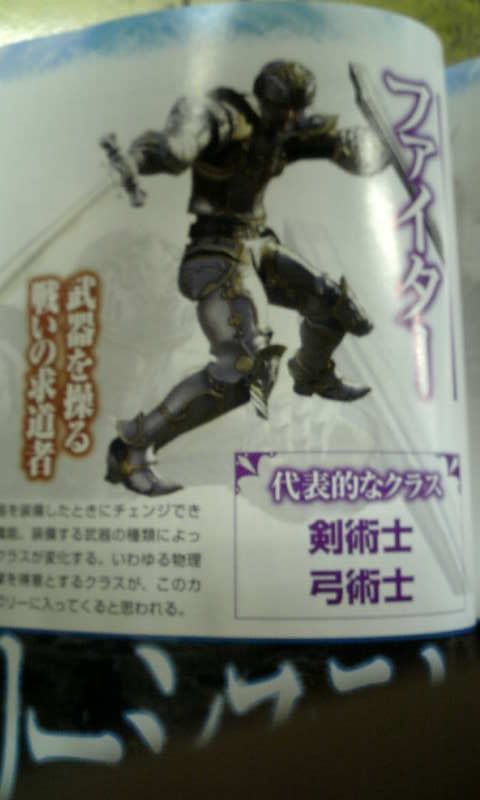 Miqo'te
The Miqo'te is a cat-like race who are fierce hunters. You can seperate them into "Moonkeepers" and "Sunseekers". Not many of them exist in Eorzea, they're quite the minority.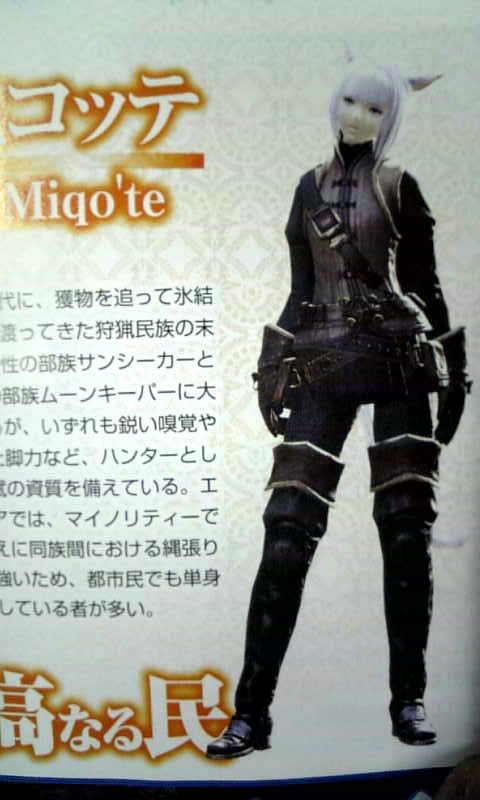 Elzen
Nothing is known of them yet.